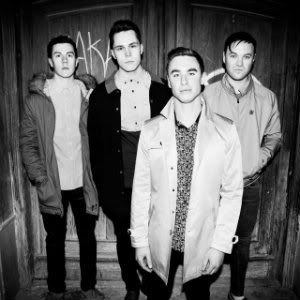 Date: March 2nd, 2013
Venue: Academy 2, Manchester
Interviewer: Andy Roberts
Format: Audio
Website: www.donbroco.com
Facebook: www.facebook.com/donbroco
Twitter: www.twitter.com/donbroco
The heights that Bedford's Don Broco have ascended to over the past 12 months is almost unbelievable. The last headline show the band played in Manchester was the small The Roadhouse to just a handful of people. Now, the band have completely sold out Academy 2, a room tenfold in size to their last show there. We caught up with drummer Matt Donnelly and guitarist Simon Delaney to talk about their rise, their debut album 'Priorities', their work out/fitness regime, wanking out giant sperm (yeah, seriously) and more.
YOU CAN WATCH/LISTEN TO THE INTERVIEW BELOW:
You can also read our review of the band's performance that night by clicking here.
Written by Zach Redrup
Interview by Andy Roberts
Founder & Editor for DEAD PRESS! | Atheist and antitheist. | Judge of the quick & the dead since 1989.