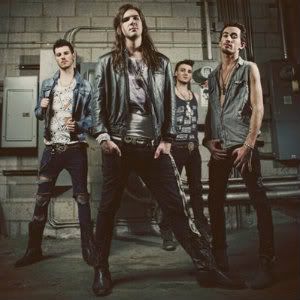 Emerging rockers Crown Jewel Defence, who have graced our shores a number of times supporting big names such as The Darkness, are finally on their first headline UK tour. The band don't even have an album released yet, but their success has taken them to tour in a number of different countries across the world and have an ever growing fan base. At their show in Glasgow, we spoke to singer and guitarist Taylor Hood about how the current Glitter Sweet tour is going, how to succeed in the music industry and strangely how Miley Cyrus is a musical inspiration.
DP!: First off, how are you doing today?
Taylor: I'm doing great, thank you.
DP!: It's your first time headlining in the UK and you've done quite a few shows, how's it been so far?
Taylor: It's been fun, it's been tiring, but really good. We've never done any more than 40 minute opening sets and now we're playing an hour and 15 minutes every night, so it's quite a big jump from that.
DP!: Last year, you supported the likes of The Darkness, Foxy Shazam and All Time Low, which is quite a big achievement for your band and obviously headlining a show is different. Do you prefer headlining and why?
Taylor: I've enjoyed headlining this tour. In a 20 minute set you don't really get the fullness of our sound. If we're supporting someone, we tend to tailor the set a little differently so you get kind of a skewed sense of what we really are, but when you get to see a full set you get to really see us.
DP!: Do you find your UK fans differ from your US fans a lot?
Taylor: There's more UK fans than there are US fans, but I guess UK fans are a bit more enthusiastic. I think maybe because we're from the US, but we're from a different country over here so I guess they're a bit more excited.
DP!: Where has been your favourite date on the Glitter Sweet tour so far?
Taylor: I think Carlisle, the last show was pretty fun. We've never played there before and the people there were a little more metal. We usually don't play to metalheads, but they seemed to have a lot of fun there was a lot of moshing which was quite interesting. Sheffield was pretty fun, I passed out at it, it was way too hot.
DP!: Where are you most looking forward to playing?
Taylor: Glasgow! I love Scotland and I love Scottish people. I love every Scottish show we've ever played. It's amazing so I'm really excited for this. I'm really excited to find out if people live in Aberdeen. It's a bit like, what? There's people really up there? So yeah, I'm interested to play there. I know that Van Halen were banned from Aberdeen. Newcastle should be fun, I love Newcastle, Manchester. We've played more shows in Manchester than in any other city in the world. We played out first UK show there, so it has a really special place in my heart.
DP!: You're touring with The Final Chapter, Peepshow and Summerlin on this tour, have you met them before and how have you all settled in with each other?
Taylor: I haven't met Peepshow yet, because they've only just come out today. I've seen some of them around. They do an 80s metal kind of thing, so that'll be pretty cool. Summerlin catch back up with us at some point later on the tour and The Final Chapter guys have been really cool. They're really young and this is their first tour. I remember being their age and going out on my first tours with bands and stuff as well, so that's pretty cool.
DP!: I was going to say, they're quite a young band. How did you hear about them and how has it been to tour with people that age?
Taylor: They were looking to find tours and we were looking for support bands, so it went hand in hand. They came out and they're very similar to us. My family is very involved in the band, he comes out and is front of house for us and this is the first tour that my mom isn't out and The Final Chapter's parents have come out on tour with them, so it's quite nice to work in a very innocent kind of, environment. Everyone pulls together and helps out. We're all in this together and I like that.
DP!: Your music builds a bit of a bridge between metal and more pop-punk music. Are you intending to fill a gap in the music market or has it just grown naturally?
Taylor: Yeah, I'm not trying to I think it just comes naturally. I listen to a very big mix of music and it comes out in a way that I think people are enjoying.
DP!: It's something quite different and refreshing for a change.
Taylor: I guess that's just what happens when you listen to Miley Cyrus and Slipknot simultaneously.
DP!: With bands popping up everywhere from the likes of TV shows and applications like Spotify, it's quite a competitive industry even more so than before. How do you keep your band moving onwards and upwards?
Taylor: I'm not trying to sound arrogant, but really trying to be better than everyone else. I think a lot of bands don't push themselves. They don't go that little extra bit. We spend a tonne of time in rehearsals before tour, like, weeks and weeks of rehearsals, perfecting every little aspect of what's going to happen. The live show is the pinnacle of what your career should be. Since it's so easy to make a good sounding record these days it's like, let's put out a really good selling record and kind of forget about the shows, but to me it's like, we can make a good sounding record but we really have to do this live and you have to do it where people will come to your show. I want to do it like, we have people coming out to the shows and saying that they like it better than how it is on record. It's happened and it's not an insult at all to me.
DP!: You let out the songs off of 'Forgotten Life' last year, have you continued to write since then and are you writing anything at the moment.
Taylor: We haven't actually released the record yet. It's a good album, it's a really good album and this tour has some of the songs we haven't actually played before and I felt like by putting it out it wasn't going to get what I thought it could do. I've been going through the songs thinking this one has a lot more potential than your average album. I don't want to be the band that puts out the album and then once it's out you're on a countdown. You've got to start thinking about putting out another album and I don't want to do that. So, I just thought, let's play some shows, let's play a lot of shows and go a lot of places. We've toured in a tonne of different countries across the world and we have a really nice little fan base growing. It's great and now is the time to put the album out, where we've got people there. We're not going to sell as many as Lady Gaga, but we have people there that will buy it and it can grow organically from there. I just thought releasing it last year where we were just starting wasn't a good idea. So yeah, I wanted to wait first. Doing this headline tour has been a chance to get it out there and let people hear it. We're always writing stuff. It's what I do and have done for a long time. Since I was 16/17 I was writing songs for people, I was in studios and labels and stuff like that. Yeah, I think I already have the next three albums down.
DP!: What you're writing at the moment, does it sound much like 'Forgotten Life' or is it pushing your band a little further out in to different sounds?
Taylor: Nothing ever sounds the same. In the last four months, I've written about, eighty or ninety songs and it can go from the most brutal song that you've ever heard to a song that's just me on piano and everything between there.
DP!: You've already said that you listen to a lot of music, who would you say your main musical influences are?
Taylor: Are you ready for this?! So you can break it down, musically, my two top bands are bands who are like my heart and soul, and if you want to get to the base of it my two favourite bands are a band called Kansas and a band called Boston. I was raised on that, I will take them to the grave, I will fight anyone who wants to talk bad about them and there's that right there. You can mix on top of that, if I have to say my favourite musical artist of all time, if I had to choose one artist that I could only listen to forever and ever and ever, it would be Avril Lavigne. She's amazing. I love her. And so like, there's a bunch of other stuff, I listen to a lot of stuff, like pop music, I listen to Miley, Ke$ha and more recently Miranda Cosgrove for some strange reason. I think she's a big Avril fan. But, on the metal side, I've got like Avenged SevenfoldChildren Of Bodom is a big one, all your main metal bands and a lot of other weird stuff. I'm really in to this German metal band called We Butter The Bread With Butter, you've got to listen to them and a Finnish band called One Morning Left who are basically just, if you put insanity into metal. I have these weird little things. We have this song called 'Metal Rain' and, basically, because I listen to crazy metal bands like Rammstein.
DP!: Their shows are insane.
Taylor: I really want to bring that in to this. If I had my way, we would have so much production and we barely fit what we already have right now in to our bus. I would have confetti blowers and everything. I would have pyrotechnics in here if there wasn't a chance that we'd kill everybody. I had to pull the plug on a lot of production of this tour because I had a lot in mind like, confetti cannons and stuff ready to go and I just got told we didn't have enough room for all this stuff. We'd have to bring out like, four extra crew members and I was just like let's do it! That's just how I am. I want to put on the show that nobody is putting on. I think it comes from touring with The Darkness, we sat there and watched them every night going the extra mile and that's really what I want to do.
DP!: What would be your advice for smaller artists who want to follow your path of success?
Taylor: I would say, first you need to sit down and make a list of what you want to do and you need to make it clear. That's what I did when we were starting out. You need to set up goals and exactly what you're planning. It's so easy to get caught up in it and you need to have that pathway. With me, I was like, I want to write some really good songs and that was my first benchmark, and once I'd done that then I'm going to go find a producer and make a record that'll hold up against everyone else. I've just made these little steps and gone for every one of them. As long as you have something inside, it stops you from getting bogged down. Don't go, "I want to go on a stadium tour". Make up some manageable steps and work towards it, it's going to take a lot. We did our first show about a year and a half ago, but there was a lot of time before that like "What'll it look like? What'll it sound like?". I'm very organised and it keeps you from getting stuck in certain places or wandering along a track where you don't know where to go. You can just go for it, but you might end up somewhere you don't want to be. There's a lot of avenues in the music industry and you can go to a lot of different places and a lot of different ways to get to the same place, which is obviously, playing to lots of people and making fans and selling records and making tonnes of money and living happily ever after. We've done it a little differently. There's been a lot of planning.
DP!: Finally what can we expect from Crown Jewel Defense in the rest of 2012?
Taylor: You can expect another headline tour in these parts, an album to finally be out and you can expect that we're always going to step it up. That's always been the thing from every tour. We did it, not how can we do it bigger, better and more extravagantly and we try our best to not cut any corners. Our motto has always been do it good first time and better the second time and even better the third time.
You can follow the band online on Facebook and Twitter.
Interview by Caitlyn Dewar