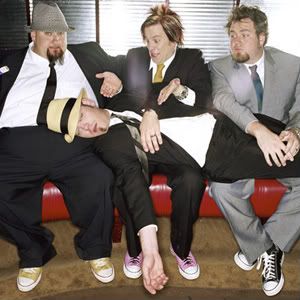 Date: October 25th, 2009
Venue: Academy 1, Manchester
Interviewer: Zach Redrup
Download: None available
Stream: YouTube
Website: www.bowlingforsoup.com
MySpace: www.myspace.com/bowlingforsoup
With a recent release entitled 'Sorry For Partyin" and a career spanning over 10 years, pop-punk party animals Bowling For Soup are living proof that good times don't fade away with age – not that they're all that old anyway. DEAD PRESS! caught up with drummer Gary Wiseman for a quick chat about their comedic style, and their recent music video 'My Wena'.
YOU CAN LISTEN TO THIS INTERVIEW HERE WHILST READING THE TRANSCRIPT BELOW:
For a review of the show which took place that night, click here!
Written by Zach Redrup
Founder & Editor for DEAD PRESS!