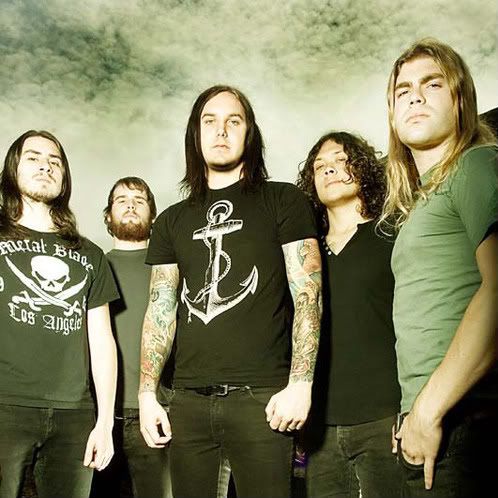 Date: October 30th, 2009
Venue: Academy 2, Manchester
Interviewer: Zach Redrup
Download: None available
Stream: YouTube
Website: www.asilaydying.com
MySpace: www.myspace.com/asilaydying
The Taste Of Chaos annual tour has quickly become a smaller, more versatile version of the US Vans Warped Tour, but bordering across more than just one country. As I Lay Dying are just one band on the bill during the UK leg of the festival tour, providing a traditional yet intense metalcore sound. After being guided to the band's backstage dressing room, filled to the brim with members and crew from some other bands featured on the tour, DEAD PRESS! and guitarist Phil Sgorro are led to an outside corridor, away from the loud occupied room:
YOU CAN LISTEN TO THIS INTERVIEW HERE WHILST READING THE TRANSCRIPT BELOW:
Zach: How've the Taste Of Chaos dates been going so far for you?
Phil: Er, they've been going really good so far. We have only tonight, and tomorrow is the last show, so.
Zach: What was your reaction like when you were asked to play these shows?
Phil: We were pretty excited because we've done Taste Of Chaos in the States before, so we kinda knew how it worked, and er, we did it in the states with Story Of The Year and Atreyu before, so it's just kind of like a continuing tour.
Zach: How have you added your own 'Taste Of Chaos' for the crowds?
Phil: [laughs] Erm, well since then we've been playing a lot newer songs and, so, we've not been to the UK in a long – I dunno, I mean we're just doing what we normally do, just trying to have an energetic live show, and try to play as many songs in an half an hour set as we're given.
Zach: How has 2008 been for As I Lay Dying?
Phil: Very busy. Erm, we've you know, gone to new countries, been just constantly touring. Our longest break that we've had has been like a month and a half maybe this year, and so, we've just been keeping busy trying to promote the record the best that we can.
Zach: How were your shows during the Warped Tour this year?
Phil: Shows at the Warped Tour were great. Erm, you know, it's very – it's during the day, so you know, it's pretty hot, but erm, I think kids preserve their energy well enough to have a good time during our sets.
Zach: How would you compare shows in the UK with shows in the US?
Phil: Erm, for us it's not as good. I feel like kids are a little bit more reserved over here. I think they should – they need to break out a bit, just a little bit more, I doubt how far it'll go. Bands don't know if you're having fun if you're not showing that you're having fun, so that's – that's all that I can suggest for them.
Zach: What are your favourite songs to play live?
Phil: Erm… favourite songs, I should know this already. Erm, it's kinda different. I like playing a lot of the newer songs, just as for me as a musician, they're a lot more – a lot more technical, erm, kinda harder to play. But then I like the older songs 'cause I can move around a little bit more, and the crowd can feed more off of our energy onstage. Erm, so I dunno, I guess 'The Sound Of Truth' is one of my favourite songs to play, it's one of the more challenging songs for me.
Zach: What's been the weirdest fan experience you've had so far?
Phil: I always – I forget these all the time. Things happen daily, er… I don't know, I can't answer it [laughs]. Well going to Russia was one of the craziest things we've done probably. Like, do you mean on this tour?
Zach: Just any time.
Phil: Any time? Going to Russia was pretty crazy. We rode on the train from St. Petersburg to Moscow, it was kinda weird, a very kinda old school way of touring by train. So, like an old train that was like 100 degrees. It was kind of miserable.
Zach: Was it a steam train?
Phil: Yeah.
Zach: No way.
Phil: So it was kinda weird, but going to Russia was one of the craziest things for us, to be like "Wow. We're in Russia. Like not many bands can easily come here".
Zach: Yeah, I've not heard of too many bands playing in Russia.
Phil: Yeah, exactly.
Zach: Last question, what can we expect from As I Lay Dying this time next year?
Phil: Erm, we'll be writing this time next year, so get ready for a new record I guess. We probably won't be touring over here for some time. Maybe we'll do a tour, you know, in the middle of the writing process, kinda break things up, kinda step back from the songs and maybe that'll be a time that we'll come back over here and do some. If there's a good support tour offer for us then we might do something like that.
Zach: Cool. So is there like any material written for the next album, or?
Phil: Nah, there's nothing written. Just a couple of rough ideas here and there, but I think at the beginning of the year it's gonna start getting a little bit more serious about the writing process.
Phil Sgrosso thanks DEAD PRESS! for their time and heads back into the dressing room with his fellow band mates and other bands on the tour bill. We then headed back down the flight of stairs in the Manchester Academy building and headed back outside into the queue, to enter the show that night.
Written by Zach Redrup