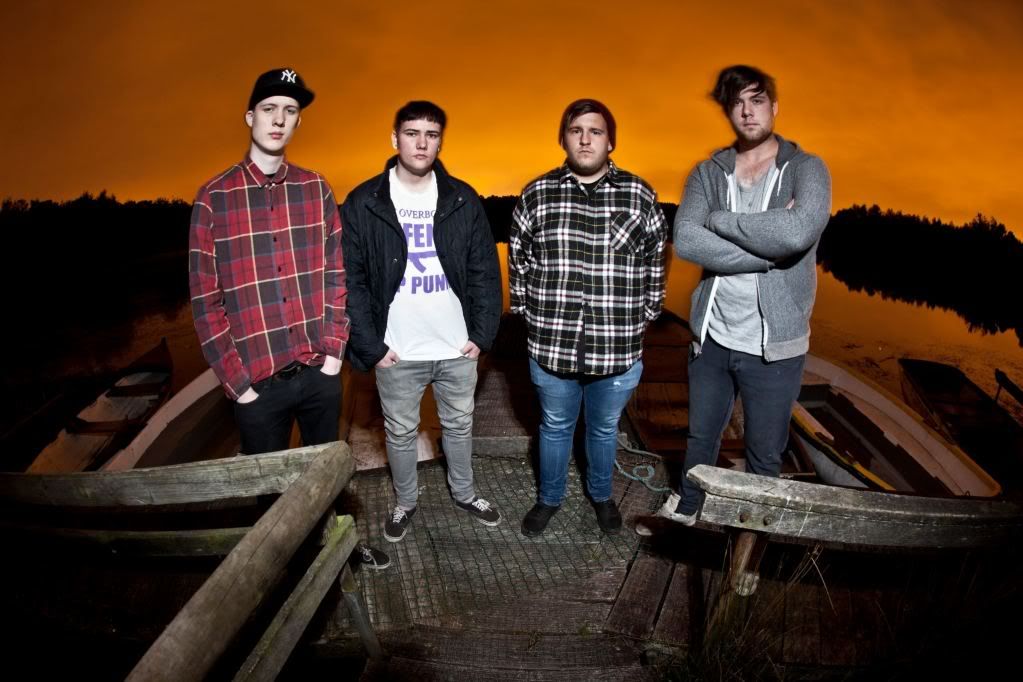 It's an impressive feat for any band, let alone an unsigned band the size of Cheshire's Above The Underground, to bag themselves a support slot with their pop-punk peers and major source of influence, Set Your Goals – and they only have two self-released EPs to their name. This along with losing a band member, shooting a lovely video for their track 'Evelyn' and on the verge of releasing their next EP, 'Autumns', we had a chat with frontman Will Kirkman about the pending release and a few other things too:
Zach: So, how're things going today in the Above The Underground camp?
Will: Things are going great. We've had a bit of a break recently for a few weeks after the recording of our new EP, but we're back on it all now and sorting everything out for the release of our new material.
Zach: As you've just said, you guys recently finished up recording your brand new EP 'Autumns' which you're gearing up for release soon, what can we expect from it?
Will: It's pretty different musically from anything we've done before. We parted ways with our synth player Joey Everson a few months back, so there's no synth on this record. I think overall the sound has just progressed into something that suits us more as a band and as people. We wanted it to be quite a diverse release, so there's something on there for everyone. I think this EP has both the heaviest and the poppiest songs that we've ever written on it.
Zach: Why did you guys settle upon 'Autumns' to be the title for the release? Do you have a planned release date set yet?
Will: We're not sure when we'll be releasing the whole thing, but we'll be releasing the first track off it next week and we're shooting the video for the first single next month. We chose the name 'Autumns' because we started the band in the Autumn as well as having our first tour and our first show etc. so it's kind of in reference to that. The title also fits in with a lot of the lyrics on the EP.
Zach: How would you compare the writing and recording process of the EP in comparison with your past two releases, 'We Are The Party' and 'The Fight We Won'?
Will: The whole thing was completely different. With our first two releases we recorded it all ourselves, and the writing process was a lot less organic than it is now. Our main goal was to not set any deadlines or to release anything that we weren't one hundred percent on. It took a little longer then normal but it was worth it, we ended up with six songs we were all completely happy with. We recorded it in Guildford with Matty O'Grady which was awesome, we've recorded with him before and he's a great guy so it was a very fun, easy process. Overall, I think we're happier with these songs and the place we're at now as a band than we ever have been.
Zach: In between your past release and this one, your former synth/keyboard player Joey Everson decided to part ways with the band, did that affect anything when it came to creating the EP in any way?
Will: It affected it as far as the writing went, but because we decided not to get a new synth player myself and Al Kirkman (guitarist) had more room to be creative with our guitar parts. It made us approach our songs differently and really changed the shape of our sound in a way we didn't expect at all.
Zach: In that time you also had a few support slots for Set Your Goals, how was it opening up for such a well respected band playing a similar style of music to you?
Will: Pretty nerve racking! But it was a lot of fun, they were really nice guys. It was definitely one of our favorite experiences as a band so far.
Zach: Not too long ago you also shot a war themed music video for your free-to-download track 'Evelyn' down in the south of the UK with Films For The Blind, how did you find the shoot for that?
Will: It was a fun day. It was really, really hot and Brandon Icely (drummer) ended up getting some pretty bad sunburn, but overall it was a great day. You can't tell on the video, but just behind the cameras there was about fifty dog walkers just stood around watching us. They thought we were shooting a film.
Zach: Do you guys have any singles or music videos planned in the pipeline from 'Autumns'?
Will: We'll be releasing the first track of the EP 'Anchors' online this Sunday (Oct 30th), then in November we'll be shooting the video for our first single 'Under The Weather' with Rolling Vision.
Zach: Are there any tour dates set in motion yet in promotion of the release? You guys have already self-booked 3 tour of your own, so it doesn't seem like it'd be a big problem.
Will: We've not got anything booked at the moment, but we're definitely thinking about touring in the near future, possibly around Christmas time or in the New Year. We've not been out on the road for a while so it's definitely near the top of our priority list. If you want us to come and play in your town, let us know and we'll make it happen.
Zach: For those who are yet to see you live, what can they expect from an Above The Underground show?
Will: Performing live is one of our favorite things to do, so we always put a hundred percent into it. Shows are always more fun when it's one big party.
Zach: Aside from what has already been mentioned above, what else do you guys have planned for the foreseeable future?
Will: We're going to spend some time in the practice room perfecting our new setlist, get the video out and get a whole load of new merch. We're also going to get the hard copies of the EP printed and set a proper release date, maybe with a launch show.
Zach: Is there anything else which you'd like to add and share with our readers to close off?
Will: If you've supported our band in the past, thank you so much it means the world to us. Our fans are the best we could ever ask for. If you haven't heard of us, check us out online or come along to a show sometime.
Above The Underground will release their new EP 'Autumns' soon, with the track 'Anchors' going live online at 8:00PM (GMT) tonight (Oct 30th) from the band's official Facebook page. You can also follow the band on Twitter and MySpace, or visit their official website.