Pop-punkers Zebrahead have always been strong and firm favourites within their scene, refining their sound album after album. Though their popularity hasn't soared much since their peak, their fanbase remains as strong and dedicated as it ever has been, showing a band who have the attributes to survive time. Of course, the news of a set at Hit The Deck Festival was more than welcomed, so we spoke with guitarist/vocalist Matty Lewis about it all: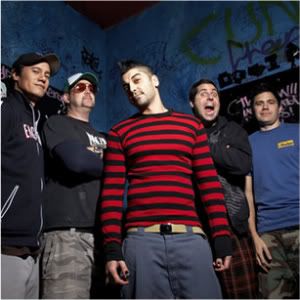 DP!: Are you guys looking forward to playing at this year's Hit The Deck Festival?
Matty: Hell yes, it's going to be awesome. It will be a great show with tonnes of great bands.
DP!: There's a lot of different bands on the line-up this year, is there anyone that you're particularly excited to see or plan on catching?
Matty: Well, unfortunately we play at the same time as our friends in Kids In Glass Houses, so I won't be able to see them. But, I'm excited to see Arse Full Of Chips. I've always wondered what kind of sauce they use.
DP!: Your last album 'Get Nice!' received a lot of positive reviews, how did it feel to receive the amount of praise that you did for the record?
Matty: I think it was great. You have no idea how many people I had to call to give us positive reviews. My grandma gave us seven positive reviews… and one not so positive one. But, overall it's been fantastic. I can't tell you how happy we are with the record.
DP!: You also have the covers album 'Panty Raid' in your catalogue, any chance we'll be seeing any Zebrahead-ified covers making their way into your Hit The Deck set?
Matty: Possibly. I suppose you'll just have to come and find out, and shout out what you want to hear.
DP!: With so many different bands on the line-up, why should people come and check you guys out?
Matty: There'll be naked ladies for the dudes, and naked dudes for the ladies. Also alcohol, steaks, gambling… and loud, fast music that gives orgasms to anyone that hears it.
DP!: Will you guys be letting yourself loose at the after party?
Matty: I'm pretty sure we will. However, we have to fly back to Germany the next day. So, yes. We will.
DP!: Finally, is there anything else that you'd like to add and share with our readers?
Matty: Just, thank you all so much for your continued support and keep spreading the word.
SET TIME: 22:00 – 23:00 (The Forum)
RIYL: Sum 41 / Bowling For Soup / New Found Glory
LISTEN TO: Anthem (below) / Falling Apart / Playmate Of The Year