With only one EP under their belt to date, it's surreal to think of how much buzz is surrounding Surrey based noise merchants POLAR., a buzz that's stronger than ever with the recent news of debut 'Iron Lungs' hitting stores. We spoke with the guys in the run up to their set at this year's Hit The Deck Festival, just to see whether the hype is deserved or not: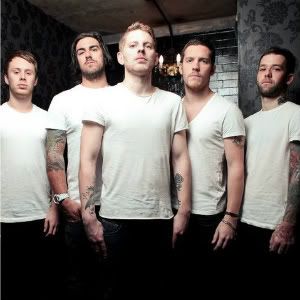 DP!: How are you guys looking forward to playing at this year's Hit The Deck Festival?
P: We are really looking forward to playing Hit The Deck this year as it has such an awesome and varied line-up.
DP!: There's a lot of different band on the line-up this year, is there anyone that you're particularly excited to see or plan on catching?
P: So many great bands are playing this year and a lot friends like Deaf Havana, TRC, The Swellers, The Dangerous Summer, Heights, Mallory Knox and Hildamay. We'll of course be catching Cancer Bats too. We were all gutted to hear I Am The Avalanche have cancelled all their UK dates, as they're one of our favourite bands.
DP!: You're gearing up to release your debut album 'Iron Lungs' next month, are you looking forward to finally getting it out there?
P: 'Iron Lungs' will be out on May 7th and honestly we can't wait for everyone to hear it.
DP!: Will we be hearing any new material from the record in your set?
P: You will be hearing quite a lot of new material in our set, so I think you're all in for a treat.
DP!: With so many different bands on the line-up, why should people come and check you guys out?
P: People should come and check us out because we are representing British punk rock at Hit The Deck. Our live show is fast and energetic, and one that's not to be missed.
DP!: Will you guys be letting yourself loose at the after party?
P: Anyone who knows us will know that we will be there letting loose without a doubt.
DP!: Finally, is there anything else that you'd like to add and share with our readers?
P: Come check us out on our UK tour, starting May 1st.
SET TIME: 13:15 – 13:45 (Stealth – Valencourt Apparel stage)
RIYL: Gallows / More Than Life / Last Witness
LISTEN TO: Cowboy The Fuck Up / H.E.L.L. (below) / Tonight Matthew, I Am The Batman
Founder & Editor for DEAD PRESS! | Atheist and antitheist. | Judge of the quick & the dead since 1989.