Hildamay have quickly become one of the UK's shining underground talents following the release of last year's 'We Loved, We Lost' EP. Relentless touring across the nation alongside this has only shown the band's thirst and determination to break out onto the scene, and their appearance at this year's Hit The Deck Festival will act as another sterling achievement to add to the list. We spoke with the guys to talk about what to expect and why we should catch their set: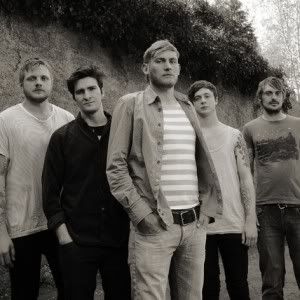 DP!: How are you guys looking forward to playing at this year's Hit The Deck Festival?
Tim: We are so stoked to be a part of such an amazing event, and to be playing on the main stage amongst some amazing bands is a real honour for us.
DP!: There's a lot of different bands on the line-up this year, is there anyone that you're particularly excited to see or plan on catching?
Tim: We're excited to see as many as we can. That's the beauty of an event like Hit The Deck. We'll definitely be checking out our buddies in POLAR., Lower Than Atlantis, Mallory Knox, Deaf Havana, Heights and Shadows Chasing Ghosts. And I guess we'll just see where the day takes us.
DP!: You released your debut EP 'We Loved, We Lost' in September last year, how've you found the reaction from your fans and critics alike?
Tim: We've been really grateful for all of the positive feedback that we've recieved from the press and from our Hildamates. It's been great, there was a real transition at shows of seeing people singing along to our songs, which has been a really big influence in the writing process for our full-length.
DP!: Has any work began on a follow-up release yet?
Tim: We're in the process of putting the finishing touches to the songs and working out the structure of the album. But, we have just about booked up the studio time for the summer and cannot wait for people to hear it. I'm afraid that's about all we can say right now.
DP!: With so many different bands on the line-up, why should people come and check you guys out?
Tim: Playing live is very important to us. We give 100% at every show and the excitement of being on the main stage should amplify our efforts.
DP!: Will you guys be letting yourself loose at the after party?
Tim: Haha, I'm sure Bobby Moonshine will make an appearance, he always does. But yeah, that's gonna be a great way to end the day.
DP!: Finally, is there anything else that you'd like to add and share with our readers?
Tim: Thanks for checking us out. Come down and see us at 14:00 on the main stage at Hit The Deck. Peace!
SET TIME: 14:00 – 14:30 (Rock City Main Hall)
RIYL: Max Raptor / Twin Atlantic / Lower Than Atlantis
LISTEN TO: The Light / By Your Side / This House Become Our Home (below)
Founder & Editor for DEAD PRESS!