Following what's been a great breakthrough year for the British pop-punk outfit Decade, and with 2012 looking the same way after the success of their new self-titled EP – which got an impressive position on the iTunes chart upon its release – it's only a matter of time before they explode. With their appearance at this year's Hit The Deck Festival approaching fast, we spoke with vocalist Alex Sears about a few things: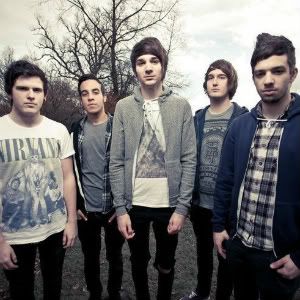 DP!: How are you guys looking forward to playing at this year's Hit The Deck Festival?
Alex: We're very much looking forward to playing, as this is the first time we will have played Hit The Deck. The line up is amazing so it is a privilege to have gotten the opportunity to play.
DP!: There's a lot of different bands on the line-up this year, is there anyone that you're particularly excited to see or plan on catching?
Alex: I'm really stoked for Don Broco, as I'm certain they'll play some material from their new record. I'm also looking forward to seeing Kids In Glass Houses, they were a massive influence on me back in the day. The last time I saw them I was a 17-year-old kid in the crowd, so to be playing the same bill is pretty nuts.
DP!: You released your new self-titled EP about two months ago now, which did pretty well on the iTunes charts. How did that feel?
Alex: It was an incredible feeling to have been at number 3, even though it was for just that day. We were nipping at the heels of Young Guns' new record, which was a pretty fucking surreal feeling.
DP!: How've people been reacting to the new material at you live shows?
Alex: Well, we released the EP halfway through our headline tour in February and weren't actually expecting much of a reaction, but we were pleasantly surprised. Hopefully, once we head out on the Slam Dunk tour in May, people will have learned all of the words.
DP!: With so many different bands on the line-up, why should people come and check you guys out?
Alex: Because we aren't just a pop-punk band. We play what we enjoy listening to as music fans, and because of our varying interests we came up with this British pop-punk-rock-hardcore mashup, which is very evident on the new EP. I think the kids'll dig it.
DP!: Will you guys be letting yourself loose at the after party?
Alex: Abso-fucking-definitely.
DP!: Finally, is there anything else that you'd like to add and share with our readers?
Alex: Come and see us play, because I truly believe you'll feel as though you watched a band that 'wasn't just pop-punk' and that was maybe something a bit new and exciting. Oh, and catch us on tour with Hit The Lights in May.
SET TIME: 14:15 – 14:45 (Rock City Basement – Big Deal Clothing stage)
RIYL: Four Year Strong / A Loss For Words / Me Vs. Hero
LISTEN TO: Lost At Sea / Home Alone / Never Enough (below)