With a band having a name like Arse Full Of Chips who describe themselves as a "Nottingham party band" and their genre as "Ska Comedy Drunk", there's only so much you can begin to imagine from the trio who will be playing in their home city of Nottingham at this year's Hit The Deck Festival. As such, we had a chat with frontman Will Bailey to talk about the group, and what exactly there is to expect from their set on the day: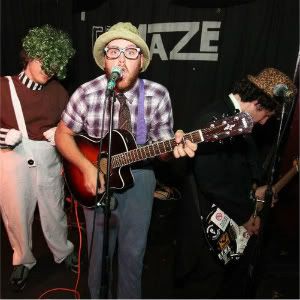 DP!: How are you guys looking forward to playing at this year's Hit The Deck Festival?
Will: We're really fucking excited about this one. It's a chance to play with some new and amazing bands and potentially play to a fairly new audience too. The opportunity to play inbetween Imperial Leisure and Bat Sabbath in such a big venue doesn't come along every day, so we're gonna do everything in our power to entertain the shit out of everyone.
DP!: There's a lot of different band on the line-up this year, is there anyone that you're particularly excited to see or plan on catching?
Will: It's such a strong line-up. We're looking forward to Bat Sabbath, playing the same stage as Zebrahead and we can't wait to see who the 'very special guests' are. My bets are on Chas 'n' Dave.
DP!: You have a very obscure and notable band name, could you tell us the meaning behind it and what Arse Full Of Chips are all about?
Will: I wish there was a meaning behind the name. It's stupid, however, it has gotten us a lot of attention (NME, Xfm, Rock Sound, etc). Arse Full Of Chips is about having fun, drunken sing-a-longs and having a fucking good time.
DP!: It's fair to say that you're one of the lesser known acts on the festival's bill this year, are you looking forward to converting a whole new crowd of people into fans?
Will: We really are. If people don't know what to expect, it's going to be great, so long as they come with an open mind. We have a set packed with crowd participation, stunts and a whole host of other things I just can't tell you right now. If everyone is up for fun, we will give them the best 30 minutes of their lives.
DP!: With so many different bands on the line-up, why should people come and check you guys out?
Will: Because we're a bit different. We're the only comedy band on the bill, and you'll see some things that you thought you would never see (trust me). We're packing our set full of the funniest, catchiest sing-a-longs you could ever imagine with a few surprises along the way. If you haven't ever seen Arse Full Of Chips, now is the time. I can't really describe what we do, you have to see it.
DP!: Will you guys be letting yourself loose at the after party?
Will: I'm pretty sure we will be loose by about midday, but I'm sure we could be persuaded to have one or two Shandies.
DP!: Finally, is there anything else that you'd like to add and share with our readers?
Will: We're plying at 5:30 – 6:00 in The Forum, just before Bat Sabbath. If you've seen us before, come and see us again. If you've never seen us before, then make sure you make the effort, have a few beers and come and see us put our blood, sweat and tears into making you laugh. See you then.
SET TIME: 17:30 – 18:00 (The Forum)
RIYL: Arse / Chips / Booze
LISTEN TO: The Kings Of Matlock / Should'a Gone To Specsavers (below) / Wacko Jacko