With a superbly received mini-album, 'The North Stands For Nothing', and a fastly rising fanbase, Sheffield's While She Sleeps are becoming one of the strongest buzz bands of the UK in the run up to their debut full-length. With their new single 'Be(lie)ve' keeping their fan expectations high, their set at Hit The Deck is only going to strengthen this further. We had a chat with vocalist Lawrence Taylor to get his take on what the festival will bring: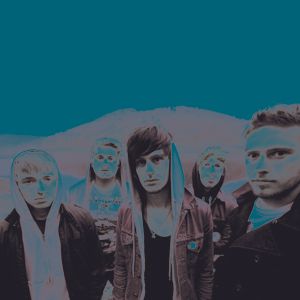 Zach: How are you guys looking forward to your set at Hit The Deck Festival?
Lawrence: Can't fuckin wait! We've been looking forward to it for a while. There are so many great bands in one place at one time!
Zach: You've just come back from Sweden with Adept, how were your shows with them?
Lawrence: Incredible! The whole tour involved a lot of drinking and swimming in rented Speedos! Thanks to them for taking us out! The shows were rammed, and the kids there were so enthusiastic about a British band being over there.
Zach: Your mini-album 'The North Stands For Nothing' has received much praise, and you even gave it away for free in an issue of Rock Sound. How does it feel to gain such a positive reaction from both fans and critics?
Lawrence: It's amazing. It's one thing to have a CD that people enjoy, but when people in the industry start to appreciate your hard work too, you can't really ask for much more from a mini-album that we recorded in a cold barn, can you?
Zach: You released your new single 'Be(lie)ve' a few weeks ago, what's the song about?
Lawrence: It's about believing in yourself, and not following the crowd and listening to what others tell you. Also the fact that you build your own boundaries, and that people should never stop you from doing what makes you happy.
Zach: Are there any bands you're looking forward to watching play whilst at the festival?
Lawrence: There's such a good line-up and it's hard to choose, but as for me personally, I will be going to see Social Suicide, Cancer Bats, The Ghost Inside, Comeback Kid, Bleed From Within, Hospitals, Underoath and Hawk Eyes if I can.
Zach: Why should people going to Hit The Deck come along and check out your set?
Lawrence: We are going to give it our all, and our shows are known to be pretty mental! It should be really fun!
Zach: What plans do you guys have after the festival is done?
Lawrence: We have a tour coming up with Asking Alexandria in the UK and Europe, and we also have a spot on the Bring Me The Horizon tour in Sheffield, whilst all the time writing new material for our forthcoming record and headline tour. We'll be hitting some festivals over the summer too, so we will be very busy boys.
SET TIME: 18:15 – 18:45 (6:15pm – 6:45pm) on the We The Brave Clothing stage.
RIYL: Parkway Drive, Emmure, Architects
LISTEN TO: Crows, The North Stands For Nothing, Be(lie)ve