Despite a lack of touring in the UK since the last few months of 2010, We Are The Ocean have still managed to maintain a pretty strong hype around the release of their upcoming sophomore effort, 'Go Now And Live'. With the album dropping roughly a week after their performance at this year's Hit The Deck Festival, we decided to catch up with lead vocalist Dan Brown to talk about it all: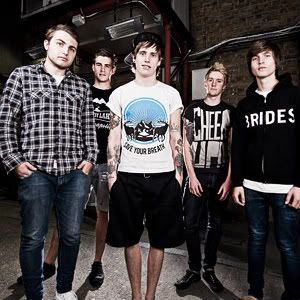 Zach: Are you guys looking forward to playing at this year's Hit The Deck Festival?
Dan: Yeah, we can't wait! It's such a good line-up, loads of our friends are playing so it's going to be a great day!
Zach: What can we expect from your set there?
Dan: Well it's the week before our new album 'Go Now And Live' is released, so we're going to be gearing people up for that and playing some new stuff that we haven't played much before. Hopefully it goes down well.
Zach: How's the new album a step-up from your debut, 'Cutting Our Teeth'?
Dan: We definitely think it's a step-up. We'll have to wait and see if people agree, but I really think we've progressed a lot in our songwriting and tried to take a few more risks with our sound.
Zach: Why should people going to Hit The Deck come along to check out your set?
Dan: Because we haven't played in the UK much since last October, and that's far too long to go without seeing WATO!
Zach: Are there any other bands you're hoping to catch whilst at Hit The Deck?
Dan: Yes, loads! I always enjoy watching all our mates, like Deaf Havana, The Blackout and Young Guns. And I'm also really excited about seeing Comeback Kid, so hopefully I can catch them too.
Zach: What plans do you guys have after the festival?
Dan: It's Tom, our drummer's birthday, on the actual day of the festival, so we'll most likely be hanging out at the after-party and having a few drinks to celebrate.
SET TIME: 18:45 – 19:30 (6:45pm – 7:30pm) on the Monster Energy stage.
RIYL: Alexisonfire, Yashin, Underoath
LISTEN TO: The Waiting Room, Look Alive, Nothing Good Has Happened Yet