Rap and rock are two genres that have combined into a reasonably strong hyrbid over the years, sometimes more successful than others. New innovator of this genre combination Hyro Da Hero has just released his debut album 'Birth, School, Work, Death' along with featuring on The Blackout's latest single 'Higher & Higher', and is confident he's going onto bigger and better things, with a set at this year's Hit The Deck Festival being just one of them: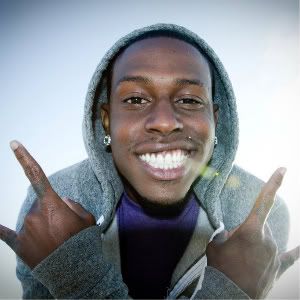 Zach: How does it feel to be asked to perform at this year's Hit The Deck Festival?
Hyro: Absolutely amazing, and a perfect ending to an amazing tour with The Blackout. There's a lot of cool bands playing that I've discovered since I have been out here and I'm excited to see them. I am very happy for the opportunity. This will rock!
Zach: What can people expect to see from your set that weekend?
Hyro: Pure live raw energy! And one of the greatest performances that they will ever see.
Zach: Are there any other bands you'd like to catch perform whilst you're there?
Hyro: Cancer Bats, Kvelertak, Young Guns, but I'm just really excited to see as many bands as possible. I love being introduced to cool new music.
Zach: You've just released your new album 'Birth, School, Work, Death', how've you found reactions from your fans and critics to that so far?
Hyro: Amazing! I have heard nothing but positive things from it. I haven't had any negative reviews that I know of, which I am very happy for. I put my heart into my music, and I'm so glad to see that my hard work is paying off.
Zach: Why should people going to Hit The Deck come and catch your set?
Hyro: Because I take every show as a challenge, and I think the band takes every show as a challenge, so you are always going to witness a hard working team going for the goal.
Zach: What plans do you have coming up after the festival?
Hyro: To keep on rocking and spreading the gospel of gangsta rock across the world. Chyeeaah!
SET TIME: 15:45 – 16:15 (3:45pm – 4:15pm) on the Monster Energy stage.
RIYL: Rage Against The Machine, The Blackout, Limp Bizkit
LISTEN TO: Ghetto Ambience, Dirty South Rock, Wake Up