Bands of just female members in the alternative rock scene are a rarity to come by, and Oxford's latest new breed Evarose are the latest addition to this area of hard to come by treasures. After only forming as early as 2010, the band have already release an EP, 'Creation Divide', and are now one of the opening bands for this year's Hit The Deck Festival. We spoke to vocalist Dannika Webber and drummer Robyn Griffith about how they're feeling about it: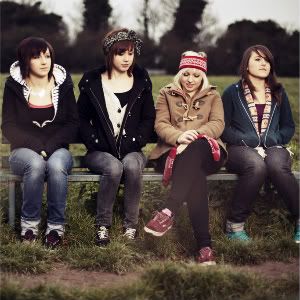 Zach: How does it feel to be one of the opening bands of this year's Hit The Deck Festival?
Evarose: It's really exciting! We can't wait to play, and to open it is pretty awesome. It will be fun get everyone pumped for the rest of the day.
Zach: You only formed last year, is it crazy to think that a year since then you'd be playing at a high-profile show such as Hit The Deck?
Evarose: Crazy indeed, it's been such a fun year and we've worked really hard to get people excited about Evarose. We're so chuffed to get to play Hit The Deck, it's amazing to see our name up there with bands we love, like Underoath!
Zach: You've got your debut EP 'Creation Divide' which was released in October, how've you found the reception to that from fans and critics?
Evarose: Some people are pretty quick to compare us to other female singers/musicians because they don't know where to place us, which is to be expected, but we're really happy with how it's all gone. We're so chuffed we even have fans being such a new band, we appreciate all the support a hell of a lot and hope people like what's to come.
Zach: Being an all-female band, did you find any difficulty in getting noticed when you first started?
Evarose: It's a really funny one. It has its positives which only benefit the band, and there are always going to be negatives. We're not trying to be a typical 'girl band'. We're just a band made up of female members. I think some people expect us to be all flimsy and wimpy, and it's really quite funny to see people's faces when we start playing.
Zach: Are there any bands you're looking forward to catching perform whilst at the festival?
Evarose: Yes! So many! Underoath, The James Cleaver Quintet, Atlas&i, Deaf Havana, it's such a good line-up, we want to see them all!
Zach: Why should people going to Hit The Deck come and check out your set?
Evarose: We're excited to be kicking off the day, and we just want people to get hyped for the rest of the day with us!
Zach: What else do you girls have planned after the festival weekend?
Evarose: We have a massive tour coming up in June/July with Atlas&i, and some really cool shows before and after. It's gonna be a really great summer.
SET TIME: 12:30pm – 12:55pm on the Big Deal Clothing stage.
RIYL: Francesqa, VersaEmerge, Young Guns
LISTEN TO: Their new music video for 'Cough It Up', which can be seen here.