Though many bands may disband or die out for one reason or another, one thing that should never be forgotten is their contribution to the music world and what they've done to help influence the new generation of bands that compose our music tastes as of late. Along with current bands for our Getting Into feature, we cannot forget those who are no longer around for whatever reason and who better to mention than Reuben, a band who've influenced some of Britain's brightest new hopes like Lower Than Atlantis and Don Broco. Read on to learn more about the history of the band, their demise, the possibility of a reformation and how you can still get into a band who are on a hiatus:
It was back in 1998 when the seeds were sewn in the creation of Reuben when singer, guitarist and chief songwriter Jamie Lenman was joined by school friend and bassist Jon Pearce alongside drummer Jason Wilcock to form Angel. Under this name, the band released a string of EPs between 1998 and 2000, including 'Me Vs. You', 'Death Of A Star', 'Betrayed' and 'Hand Over Fist'. The year 2000 saw some big changes for the band with a new drummer in the form of Mark Lawton and a name change to the moniker they'd become better known as: Reuben.
FORMATION:
The band released their 'Pilot' EP through Bad Music in January 2001, and despite being a relatively underground release the EP garnered rave reviews, including 5 Ks from Kerrang!. Business really started to pick up for the boys when stickman duties were once again swapped to the band's third and final drummer Guy Davis as the band went on to release their first singles proper in the form of 'Scared Of The Police' and 'Stux'. The band started turning heads and gained yet more support from the press as well as regular plays on MTV2 and Zane Lowe giving the band a 2 hour special on his then XFM radio show before they'd even released their debut album.
DEBUT AND SOPHOMORE RECORDS:
Thankfully when the debut dropped it steered well clear of disappointment. Released on June 21st 2004 through Xtra Mile Records, 'Racecar Is Racecar Backwards' was the band's first true steps into the music industry and despite little commercial success, it was a huge hit with fans and critics alike. The band were also nominated as a Kerrang! Best Newcomer award, whilst lead single 'Let's Stop Hanging Out' was number one on MTV2's request chart for a number of weeks.
The band wasted little time in releasing the follow up to their debut, with 'Very Fast Very Dangerous' dropping just over a year later on September 12th 2005. The 'difficult' second album, which was produced by Chris Sheldon (who has also worked with the Foo Fighters and Biffy Clyro), once again went down a storm, yet still little commercial success came from it. Zane Lowe once again championed the band, inviting them onto his Radio 1 show for a live session, while Billy Talent took them out on their first tour of Europe in September 2006.
DVD AND FINAL ALBUM:
2007 saw some big changes for the band, as they parted ways with Xtra Mile due to finance issues and decided to release all further material on their own imprint, Hideous Records. March 2007 marked the band's first independent release in the form of DVD 'Whatever Happens In Aldershot Stays In Aldershot', which included a full live performance, studio diaries of the band recording their next record (displaying their comedic side), a documentary into the reality of being in band and more.
A few more months down the line and the band's third and sadly final album 'In Nothing We Trust' hit the shelves. The record was the band's most ambitious work to date, taking the Reuben template but also expanding it into a technical and almost progressive sound. The result was a collection of songs that most bands both underground and storming the charts would kill for, and, of course, 'In Nothing We Trust' was once again lapped up by fans and critics alike. The band even went on to perform on the main stage at Download Festival, which you can see some of below:
HIATUS:
Though many high points were coming the band's way as of late, 2008 was when the bubble surprisingly burst. On June 4th, Barney, the band's manager, released a statement to all of the mailing list subscribers, stating that "the band are not planning any more gigs or releases for the foreseeable future" but that "the band members are all on amicable terms and are supportive of the need to call a halt".
Following the news of their indefinite hiatus, 'We Should Have Gone To University' was released on July 24th 2009, a posthomous rarities and b-sides collection, spread across two CDs and one DVD. The release also featured the band's last ever recorded track, 'The Last Time', a song that many fans think lyrically talks much about their split.
Since their split, Jon Pearce and Guy Davis have gone on to form new rock outfit, Freeze The Atlantic. Frontman Jamie Lenman however has pretty much steered clear of any musical involvement all together, with the odd video here and there on YouTube, and is now focusing on his illustration work.
Reuben emerged at a time that was a bit of a grey area for rock music. Nu-metal had jumped the fuck up as much as it possibly could and was hobbling off out of people's memories whilst emo was still yet to apply its eye liner. This makes Reuben hard to class genre wise other than being simply a rock band. The band's demise was reflective of many of the rock bands of their time, with even the acts who gained some success such as Hell Is For Heroes and Hundred Reasons falling by the wayside, but those are graveyard tales for another day. Despite never gaining mainstream success, the band's influence is undeniable with those teenagers who listened to Reuben now forming their own bands. Their influence can undeniably be heard in the current wave of new British rock bands, with names such as Don Broco and Lower Than Atlantis openly admitting their love of the band. LTA's Mike Deuce has even recently stated "Without Reuben, there would be no Lower Than Atlantis".
REFORMATION POSSIBILITY?:
The band remain close friends to this day and have never ruled out the possibility of a Reuben reunion. However, at the time of writing this is still yet to materialise. Recently the fans have grouped together in an attempt to get Reuben to come out of their hiatus with a Facebook (here) and Twitter (here) campaign. It is still yet to be seen whether this will have any impact on bringing the band back, however, all we can do for now is join the group, follow the Twitter account and hope the band are tempted and persuaded enough to reform and treat us all to their magnificent rock music once more.
---
KEY REUBEN TRACKS:
Here are some key tracks by the band Reuben, some of which may include singles/music videos, album tracks or rarer material which we think are great entry points into getting into the band:
---
THE ALBUMS:
With a career that admittedly didn't carry the best commercial or financial success, and was definitely worth far more merit than it achieved, Reuben still managed to put out a successful string of albums during their activity. Here's all of them summed up briefly, with some key tracks from each record: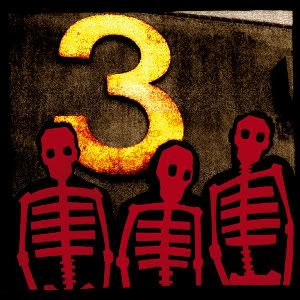 Racecar Is Racecar Backwards
Released: June 21st, 2004
Their very first full-length effort, and with Kerrang! magazine nominating them for Best British Newcomer later that year, it was clear that the press had began to take notice of the Aldershot based trio. With singles like 'Let's Stop Hanging Out', 'Freddy Krueger' and 'Stuck In My Throat' being the forerunners in promoting this record, it was those who delve a little deeper to find treasures such a 'No One Wins The War' and heavy stomper 'Missing Fingers' that truly won.
Key tracks: Stuck In My Throat, Missing Fingers, No One Wins The War, Freddy Krueger, Let's Stop Hanging Out
---
Very Fast Very Dangerous
Released: September 12th, 2005
The band themselves described this record on a few occassions as a much more straight-up rock record than its predecessor. In some ways in tracks like 'It's All About Control' and 'Good Night' may very well reflect that statement, but their more epic side as displayed with 'Return Of The Jedi' and 'Every Time A Teenager Listens To Drum & Bass A Rockstar Dies' tells something different of this album entirely. Reuben truly knew how to be very fast and how to be very dangerous.
Key tracks: Return Of The Jedi, Blamethrower, Every Time A Teenager Listens To Drum & Bass, Best Enemies, A Kick In The Mouth
---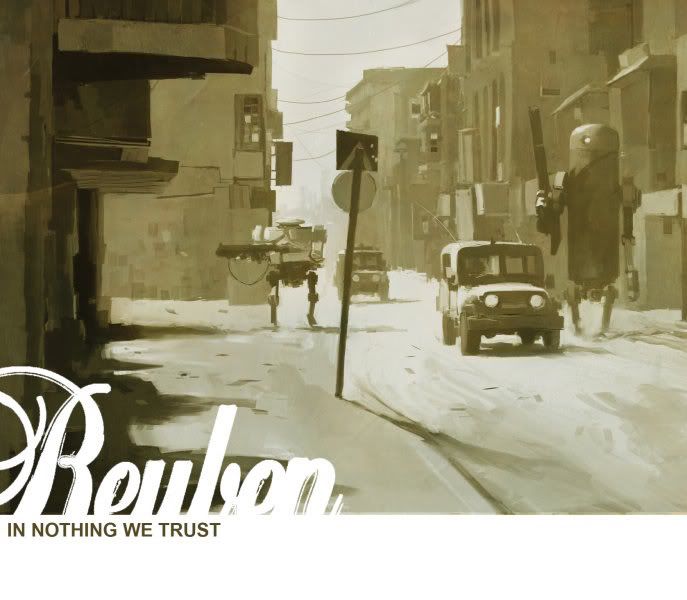 In Nothing We Trust
Released: June 25th, 2007
Though unknowingly at the time of its release, 'In Nothing We Trust' was the band's third and final studio outlet, and they most definitely went out with a massive bang. First single release 'Blood, Bunny, Larkhall' displayed Reuben were entering some darker territory, and when the album dropped it was evidence it wasn't a one off. Tracks like the prejudice notifying 'We're All Going Home In An Ambulance', the music taste appointing 'Crushed Under The Weight Of The Enormous Bullshit' and the album's epic number 'Suffocation Of The Soul' were proof of that.
Key tracks: Three Hail Marys, We're All Going Home In An Ambulance, Deadly Lethal Ninja Assassin, A Short History Of Nearly Everything, Blood Bunny Larkhall
---
Written by Gavin Lloyd