Back in the early 00s, there was a little genre called nu-metal. Some of you may remember this genre's peak and others may be completely oblivious, but nu-metal was HUGE! Despite the genre dying a few years later – almost as rapidly as it was born into the mainstream – resulting in many of its acts (including its forerunners) needing to adapt to avoid fading away, yet some acts are still around today and are bigger and stronger than they've ever been. One of said bands is Deftones.
Despite a series of brilliant albums and singles before it, Deftones really came into the media spotlight with their single 'Back To School (Mini Maggit)', to which the band aren't all too fond of themselves today. That single showcased their nu-metal sound at its strongest, and was really the band's last showcasing of that style in a dominant. From then on, Deftones began to develop and evolve their sound into a very ethereal and more ambient form of metal, a style they'd shown on several occasions throughout the majority of their records.
Some dark times hit the band throughout their career, none more notable than the unfortunate accident that befell bassist Chi Cheng in 2008, leaving the musician in a heavy coma. The band set up a charity called One Love For Chi to help raise money to pay for medical bills and treatment, which has been largely supported by several other bands within the alternative rock and metal community. Still, not one to hit the brakes, the band released their album 'Diamond Eyes' in 2010 to worldwide critical acclaim, and has been named by some as their best album to date. If this impressive feat following such a huge speedbump wasn't enough, Deftones proved that this wasn't a one-off fluke in 2012 with the release of 'Koi No Yokan', an album which firmly cemented the band's place as one of the greatest modern metal bands of our time.
---
TEN KEY DEFTONES TRACKS:
Here are some key tracks by the band Deftones, some of which may include singles/music videos, album tracks or rarer material which we think are great entry points into getting into the band:
---
TOP 3 ALBUMS:
These are what we feel are the best three albums to start you out on your journey to Deftones fandom, along with the better offerings on each record if your wallet can't quite take the strain of a new album just yet and YouTube/Spotify is your only answer. Good way of checking the CDs out before parting with your hard-earned cash too:
White Pony
Released: June 20th, 2000
Heralded by many as THE Deftones album that they've never been able to top, and some doubt they ever will. Boasting such anthems like the Grammy award winning 'Elite', 'Change (In The House Of Flies)' and 'Passenger' to name but a few, 'White Pony' managed to sell its way Platinum status in the US and Gold in the UK. Ask most fans of the band and they will more than likely mention this album as a starting point for anyone interested in joining the Deftones fanbase. Reissues of the album featured the one-off single 'Back To School (Mini Maggit)', something frontman Chino Moreno was unhappy about and thought of as a marketing statergy to push sales of the record following its commercial success.
Best tracks: Passenger, Change (In The House Of Flies), Feiticeira
---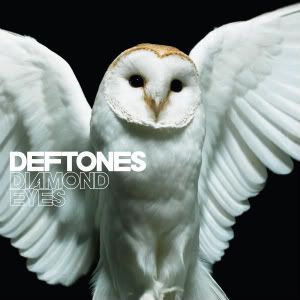 Diamond Eyes
Released: May 4th, 2010
Though the loss of a band member in one way another of a band, be it death or in this case a coma, may be enough to soften the spirits or even split a band completely. But not Deftones. Instead of releasing the album they were working on at the time, 'Eros', the band pushed it aside and worked on a completely new body of work. What came out of it was 'Diamond Eyes', an album that received worldwide critical claim and proved that Deftones are almost unstoppable to whatever may be thrown at them throughout life. The album also managed to bear with it the most commercial music videos from any one of their records; from the almost schizophernic 'Rocket Skates' to the anything but schizo 'Sextape'.
Best tracks: Diamond Eyes, Prince, Beauty School
---
Around The Fur
Released: October 28th, 1997
This was the first step away from the nu-metal styled beginnings of the band and their breath of new refreshing air into the metal scene before the genre had even shown hints of dying. Always above on their game, the crushing chorus of opener 'My Own Summer (Shove It)' is great tug that shoves you into the deep end of 'Around The Fur'. Swimming amongst other great single 'Be Quiet And Drive (Far Away)' and the Max Cavelera assisted heavyweight 'Headup', this album was the beginning of the more etheral and alternative aspect to metal that Deftones were and still are the forerunners in bringing to the masses. It all went up for the Sacramento outfit from here.
Best tracks: My Own Summer (Shove It), Be Quiet And Drive (Far Away), Lhabia
---
Written by Zach Redrup