Halloween is upon us, and what better way to celebrate by blasting out the spookiest tunes by the scariest bands on the planet? We've scoured every graveyard on the globe to find the nastiest, creepiest bands who make a living playing songs that would bring even the most mutated of corpses back to life. This is Halloween!
---
BEHEMOTH
Polish blackened death metal titans Behemoth are unsurpassed in contemporary horror visuals… in other words, they look super spooky. With their visual themes changing with every album theme they've covered a lot of dark stuff, from samurai goths to satanic priests, and there is always an abundance of awesome occult imagery. [JRK]
LISTEN TO:
Ov Fire and the Void [stream]
---
THE BLACK DAHLIA MURDER
Arguably the best contemporary death metal band going featuring the genius writings of Trevor Strnad, with lyrics on the occult, sabbaths and darkness, The Black Dahlia Murder have a huge horror element to their music. They even have an entire album based on occult rituals, and last album 'Everblack' tackled even darker elements like The Evil Dead themed 'Raped In Hatred By Vines Of Thorn'… yeah, pretty terrifying. [JRK]
LISTEN TO:
Moonlight Equilibrium [stream]
---
BUTCHER BABIES
One of the newest exports covered in this feature, Los Angeles' Butcher Babies garnered a lot of their early attention off the back of front women Heidi Shepherd and Carla Harvey deciding to wear very little clothing at their live shows, and any clothing they did wear would be drenched in blood. In present day, the partial nudity isn't on their plan of action anymore, but their delivery of shrieking metalcore with the odd splash of groove alongside lyrics of death, murder, massacres and similar topics, they're an apt fresh addition to any Halloween fanatics playlist. [ZR]
LISTEN TO:
Magnolia Blvd. [stream]
---
CIRCUS OF DEAD SQUIRRELS
Connecticut industrial misfits have been scurrying around the underground scene for the best part of a decade now. Criminally unheard of by most, their freakish stage antics coupled with sinister circus attire make CODS a must for any Halloween playlist. With songs covering overpopulation to serial killers it's hard to choose just one to scare the shit out of you, but 'Elmo's Last Laugh' will send a nice shiver up your spine. [AR]
LISTEN TO:
Elmo's Last Laugh [stream]
---
CRADLE OF FILTH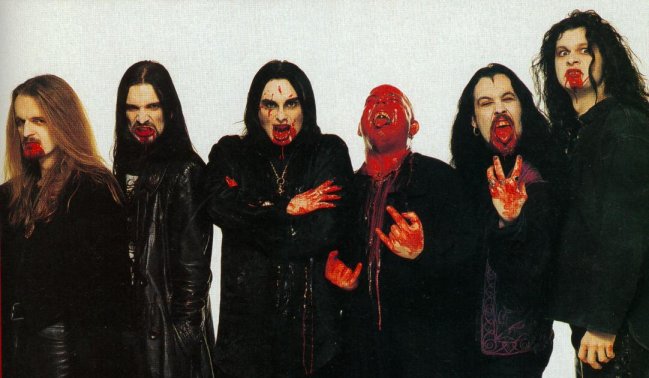 Suffolk extreme metal titans Cradle Of Filth host the most expansive back-catalogue of all of the artists mentioned in this whole feature. If you don't even know who these guys are, or even what they're all about, just take a quick look at some of their album artwork. That alone serves them the right to be a part of any Halloween feature. That's before we even begin to mention Dani Filth's excessively demonic vocals, destructive songs that cover anything and everything dark and sinister, and the fact they can even turn an electro-pop classic 'Temptation' by Heaven 17 into something that sounds like the spawn of Hades. [ZR]
LISTEN TO:
Nymphetamine [stream]
---
FEARLESS VAMPIRE KILLERS
Gothic horror themed punk isn't something that has kicked off across the UK, at least not in recent years anyway. However, that's all set to change with London's Fearless Vampire Killers, a band who over the past couple of years have been championed by several of the nation's biggest publications (most notably Kerrang!), and their approach of gothic punk akin to early My Chemical Romance and Aiden is a great help to that. With the release album number two 'Unbreakable Hearts' just around the corner, expect these guys to explode and be everywhere you go. [ZR]
LISTEN TO:
All Hallows Evil [stream]
---
LORDI
No shock-rock/Halloween-themed list would be complete without the addition of the infamous Finnish monster quintet, Lordi. Though they were already well established on the rock scene with two solid albums, they sky rocketed to fame when they demolished the competition at 2006 Eurovision Song Contest, and quite rightly-so: 'Hard Rock Hallelujah' is fucking incredible. However, since this is a Halloween themed list, check out their video for 'Blood Red Sandman' which is a genuinely blood-chilling tribute to the ultimate gore-fest Evil Dead. [AR]
LISTEN TO:
Blood Red Sandman [stream]
---
MARILYN MANSON
Marilyn Manson (aka Brian Warner, aka Antichrist Superstar, aka The God of Fuck) may arguably have become a more diluted frontman/artist and band over the years, but their past of being able to shock and polarise audiences (especially over in America) cannot be denied. Not only with his look, music, lyrics and on stage antics, Manson has been a well-documented fan of all things creepy. They even covered 'This Is Halloween', the flagship track of the number one Halloween fanatic film, The Nightmare Before Christmas. [ZR]
LISTEN TO:
This Is Halloween [stream]
---
MISFITS
The Misfits are often recognised as the pioneers of the sub-genre known as 'horror punk,' blending elements of hardcore punk with imagery and lyrics drawn from your favourite B-movie horror flicks. Despite the band's line-up changing fairly regularly, especially in the first few years of their formation, many would argue that the most recognised unit consisted of Glenn Danzig on vocals and Jerry Only on bass (who later took up vocals around the turn of the decade, up until the present day after a lengthy legal battle lasting several years).
Their debut, 1982's 'Walk Among Us' is an absolute classic, and while most bands of the era were singing about politics or societal issues, the Misfits were putting out songs like 'I Turned Into A Martian,' 'Astro Zombies' and 'Devil's Whorehouse'. The artwork for 'Walk Among Us' features the band, all clad in black with Jerry Only sporting the 'devilock' hair-style that grew to be synonymous with horror punk, put over a collection of late 50s sci-fi posters.
Despite their more recent records being pretty much hit-or-miss (with more emphasis on the latter), the band's earlier material was untouchable. The legacy the band created set the groundwork for bands like My Chemical Romance, Black Veil Brides, Marilyn Manson and plenty more. Regardless of your thoughts on the often-polarising post-Danzig era, the Misfits will never be forgotten. [JB]
LISTEN TO:
I Turned Into a Martian [stream]
---
MOTIONLESS IN WHITE
Regarded by many as this generation's Manson as soon as he decides to pack it all in, an understandable comparison considering Chris Motionless adopting his trademark croaking vocals, Motionless In White are a band dressed to the nines in gothic dramatics. With a catalogue of songs talking discussing vampires ('Children Of The Night'), witches ('Abigail'), Rob Zombie covers ('Dragula'), horror themed music videos ('Reincarnate' and 'A-M-E-R-I-C-A') and corpse references ('Dead As Fuck' and 'Synthetic Love'), they're more than catered for the Halloween season. [ZR]
LISTEN TO:
Dead As Fuck [stream]
---
MURDERDOLLS

Aside from his ongoing solo project, Murderdolls is easily the most renowned and popular project emerged from the mind of Wednesday 13, aided by the musical talents of former Slipknot and current Scar The Martyr drummer, Joey Jordison. Though they've only got two full-length albums under their belt over the course of their career, which sadly came to a demise in 2013, there's still plenty of horror punk to feast upon. [ZR]
LISTEN TO:
Dead In Hollywood [stream]
---
NECROPHAGIA
When it comes to horror and gore in death metal, Necrophagia are the masters. You know all those really bloody old school splatter films? Necrophagia are the musical equivalent. Everything about Necrophagia is horror: their sick and original album covers, their gorefest music videos, and all the horror movie samples. If you want the most terrifying band in the world then look no further. Their latest gorefest White Worm Cathedral is out now! [JRK]
LISTEN TO:
Embalmed Yet I Breathe [stream]
---
STOLEN BABIES
Halloween is a celebration of the weird, the wonderful and the wacky and no one does that better than horror fanatics Stolen Babies. With a very Tim Burton-esque look and a dramatic, theatrical approach to their music this California trio (former quartet) have captured the imaginations of many by creating their own unique brand of avant-garde metal. Not to mention, lead singer Dominique Lenore Persi's powerful and blood curdling screams will genuinely haunt you. Check out 'Tall Tales' if you don't believe us. [AR]
LISTEN TO:
Tall Tales [stream]
---
WEDNESDAY 13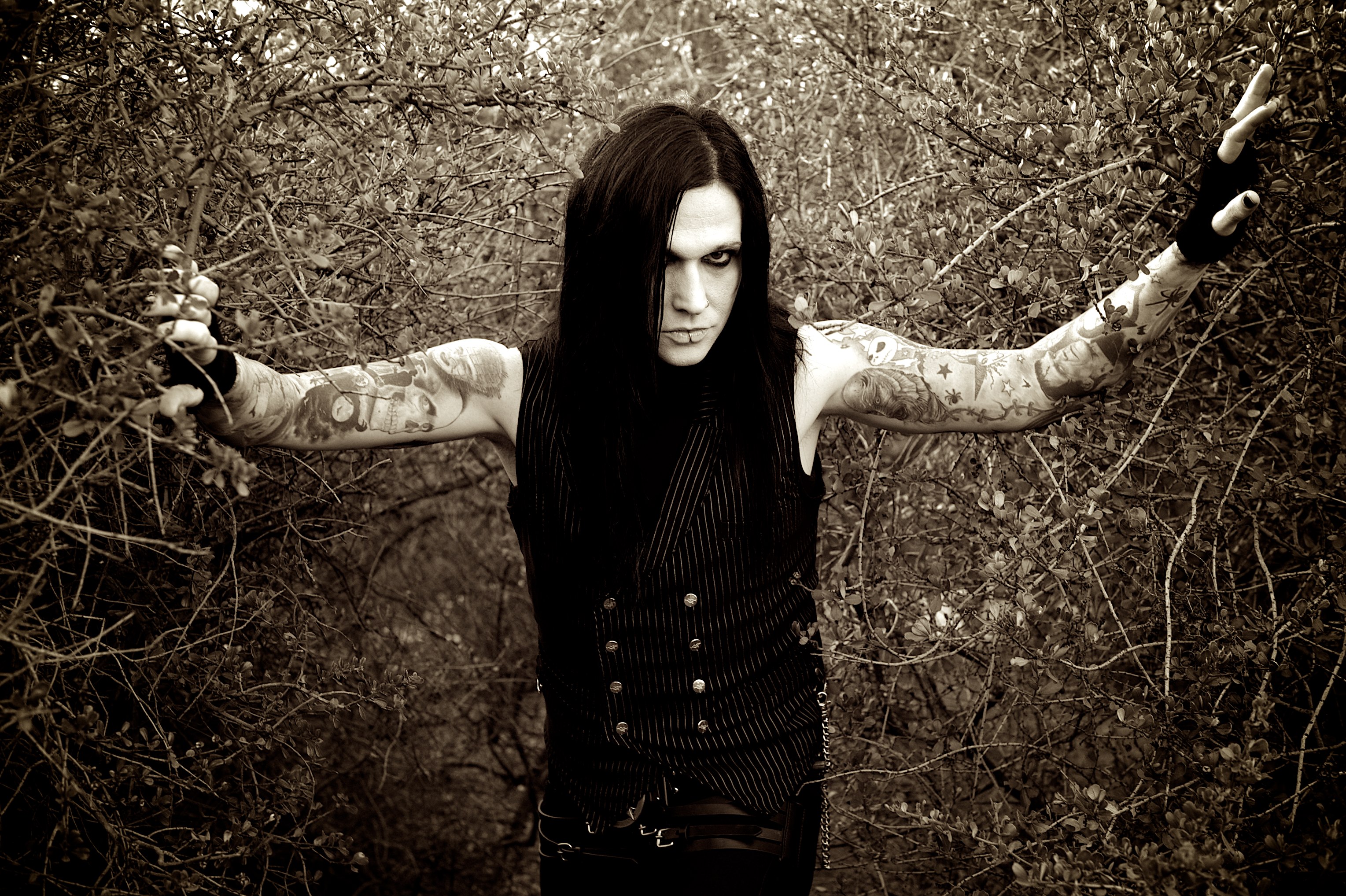 Honing his craft of being a one-stop shop for horror punk in all of his musical projects across the years (Murderdolls, Frankenstein Drag Queens From Planet 13 and his solo project to name but a few), Wednesday 13 is the embodiment of the spirit of Halloween and all things spooky. With yet another new album coming in 2015 titled 'Monsters of the Universe: Come Out and Plague', it's almost like there is absolutely no end to his material of macabre. [ZR]
LISTEN TO:
I Walked With a Zombie [stream]
---
All of these songs and more have been compiled in a handy Spotify playlist for you. Tonight's soundtrack is sorted!
You can subscribe here: http://open.spotify.com/user/deadpress/playlist/5S2uVWxGxHvZt9VEFe8Log
Written by Andy Roberts [AR], Jack Boaden [JB], Jack Richard King [JRK], Zach Redrup [ZR], and MG Savage