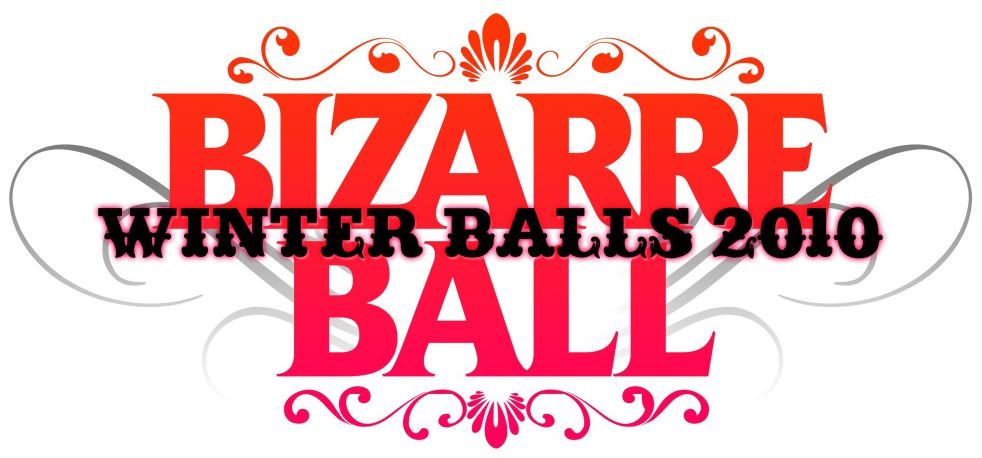 Bizarre Magazine; a magazine known for its outlandish content and features, and even if the publication is unknown to you the name pretty much says it all. With common topics featuring fetishes, bondage, burlesque, gothic culture, injuries and mutilation to name but a few, you can rest assure that their annual ball celebrations aren't going to be your normal night out. Winter 2010 marks its first visit outside of London, with a second date in the UK's Northern capital, Manchester.
A range of different acts encompasses the evening's entertainment; music, burlesque dancing and sick stunts. After being introduced by the event's presenter and magazine's editor Alix Fox, music is the choice of opening, with local 4-piece Obsessive Compulsive offering an angsty gothic punk slice to get the ball rolling. Frontwoman Kelii switches onto guitar for the final moments of their set, adding an extra layer of thickness to the already chunky guitar buzz. Co-presenter Des O'Connor brings a little more of a lighter and toned-down music face, equipped with just his voice, a ukelele, and songs across the night about incest, necrophilia and other very Bizarre-esque topics.
The final offering of the stage entertainment is introduced to the crowd early on, with The Circus Of Horrors, led by zombie ringmaster Dr. Haze. One by one we're acquainted with each of the circus' members presnt tonight, including The Mongolian Laughing Boy brought onstage in a tight small tube encasement, who soon after shoved almost an entire spoon up his nostril, along with another guy who opted to instead shove an electric drill up his.
All this before introducing the first of two burlesque dances from Lola Pops. First time around Lola's equipped with a slinky, seductive sailor's outfit surrounded and covered by a hell of a lot of balloons. Popping away with a sharp pin, Lola bursts the balloons one by one, each releasing a shrapnel effect of glitter onstage. With all balloons gone she slowly removes her top and bra, covered with tassles before bouncing back offstage. The mood shifts to something more erratic and furious with Sheffield's Rolo Tomassi, fronted by the aesthetically misleading Eva Spence; gifted with the look of an innocent lady, and also the roars of the underworld. To top it all off she's far from shy when it comes to throwing herself about onstage, often resembling a possessed maniac who's just been delievered terrible news.
Absolutely fucking mental' must be the focus for all the evening's music acts, as The Eighties Matchbox B-Line Disaster go ballistic! From throwing about their guitars, running about amidst the sea of spectators, and even the two guitarists shortly making out with each other at the closing seconds of their set, the Brighton born five-piece are as sporadic, erratic and unpredictable as a natural disaster, and a musical tornado is what took place at The Ritz that night. The only remedy on hand that could possibly calm it down would be a burlesque performance by Lola Pops, and so it was administered, switching from her previous seductive sailor to a dark corpse bride style. Slowly one by one removing items of clothing, at times finding creepy crawlies until Lola remained in nothing but a veil and underwear, to then thankfully find a wedding ring in her pants.
The glee driven high-time was only short-lived, as the night's final act came into full play: The Circus Of Horrors. One after the other, the host of 'different' people display their odd skills; a man who swallows razorblades, pulls them back out on string before swallowing a yard of yarn then extracting it from an incision in his stomach. Followed up was a guy who managed to balance on a plank of wood upon a stump, who would then add bench after bench atop whilst still balancing like it was easy. The Circus' highlight came from The Mongolian Laughing Boy, a man who dresses in nothing buy mucky oversized white underwear who showcases mutilation. Such mutilation included shoving skewers into his cheeks and neck that were pulled out by members of the audience, and having his arms and tongue nailed to a large plank of wood, resembling what could arguably be depicted as Jesus Christ.
Alix Fox and Des O'Connor brought their final words before leaving the event's DJs Simon Price and Cherry Foxxx to keep the party going for the remaining few hours of the night. Lots of partying, lots of dancing, lots of drinking, and lots of bizarre outfits occupy the room for the end of what was the Bizarre Ball's first ever visit to Northern territory. Undoubtedly it won't be their last.
Written by Zach Redrup
Photos by Zach Redrup – the full set can be found here!