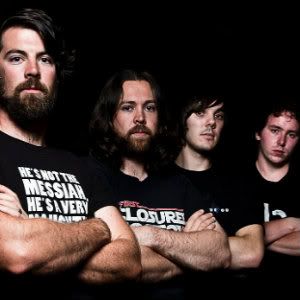 Release Date: June 2nd, 2012
Label: Unsigned
Website: None available
Facebook: www.facebook.com/zebedymusic
Twitter: www.twitter.com/zebedymusic
Rating:

Zebedy is not only a strange name but a heaving mass of progressive rockers from North Wales, bringing some of the best underground sounds since 2008. Having won the Holyhead and Bangor Battle Of The Bands and Waftor Entertainment Showmanship Award in Pentre last year, the band have finally released their new EP, 'This Is My City'.
These four virtuous renegades surround their audiences with masterful phenomenas in their music, from the grinding licks of the guitar in 'This Is My City' and the brazen beat of the drums in 'The Fallen Inn', this band are exceedingly tight. It's hard to believe, that a record label hasn't yet scooped up this raucous bunch of rockers for their nest.
The captivatingly contagious track 'Empty Frames' oozes out yearning melodies before colliding into a pit of grumbling guitars stimulating the perfect mosh pit in your head, whereas the harmonious mellow ballad that is 'In A Heartbeat' shrivels in poetic emotion, even without words.
Zebedy's sound is like a mixture of Cancer Bats with the melodic voice of old school Hawthorne Heights, before crashing into a wall built by DevilDriver. With each song providing exciting outbursts of blastings beats with melodic and moving lyrics, you're sure to be kept on your toes. Definitely a one for the party playlist.
Written by Louisa Smith