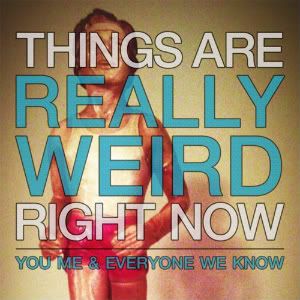 Release Date: May 3rd, 2011
Label: Top Shelf Records
Website: None available
MySpace: www.myspace.com/youmeandeveryoneweknow
Rating:

'Things Are Really Weird Right Now' is the new EP from Washington DC based indie band, You, Me And Everyone We Know. Unfortunately, it's the last output that this band will produce, as they have recently announced an indefinite hiatus just before the release of the EP.
Beginning with joyous sounding handclaps and Brandon Urie-esque vocals, 'There Was A Thump, Then Another' is a great track to kick-start this EP. Riding along on an old school, 60s style beat complete with a "wah wah wah wah wah" refrain, the song is reminiscent of Del Shannon's 1961 hit 'Runaway'. The track is completed with a summery indie rock guitar riff, and some very intelligent lyrics "There was a thump, then another / That came quicker than the others / And yet, try as I may / They kept speeding up that way / I was the same two consonants / I just wanted you all vowels".
Next track, 'Some Things Don't Wash Out (2nd Rinse)' is a reworking of a song from their first (and only other) album of the same name. This version is a mellower, folkier, acoustic version of the album version. Whereas the original was uptempo, danceable and catchy, the EP version, cleverly subtitled '2nd Rinse', is far more reserved, giving the song a completely different feel. Yet this is no bad thing, it works really well especially the addition of female vocals halfway through the song, adding an extra dimension to the track.
Title track'Things Are Really Weird Right Now' kicks off the second half of the record brilliantly, the lyrics just as good as anything else on the EP; "I was 15 looking for God / I was 18 playing the lady / Now I'm 26 with a headful of hair that I'll be losing any day".
If any complaints were to be made about this EP, it would be that it was too short, especially the final track 'Sad Bastard Music'. The listener is sadly left wanting more, and wondering where the band could have potentially gone had they not decided to break up and go seperate ways. As a mellow, folksy, indie album it is certainly a triumph.
Written by Alex Mitchell-Fox