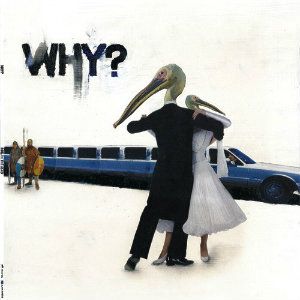 Release Date: August 13th, 2012
Label: Anticon
Website: www.whywithaquestionmark.com
Facebook: www.facebook.com/whywithaquestionmark
Twitter: www.twitter.com/whyanticon
Rating:


WHY? are a band that fit into no categories but their own. With their hip-hop/rock and a little bit of indie sounds all blended into one, it's difficult to describe someone to compare them to. But, nonetheless, their dynamic and unique sound is one that is highly favourable, and their new EP 'Sod In The Seed' is a collection of six songs that prove just that.
'Sod In The Seed' has a slow rap-style verse with tranquil choruses, whereas 'For Someone' combines reggae guitars and jungle beats, with xylophones, strings and pianos and soft vocals that sound more like poetry being read rather than sung. The beautifully crafted track 'The Plan' sounds like something that John Lennon would have wrote if he was still alive today.
Arguably one of the strongest tracks on the EP is 'Twenty Seven', with its calm and placid tunes and lyrics that will get stuck in your mind. With its feel good vibes coming from the guitar leading up to the climatic finale from the drum, kicking into the next song 'Shag Carpet' with anticipating drones. This is a fine little EP that is definitely one for the collection.
Written by Louisa Smith
Founder & Editor for DEAD PRESS!