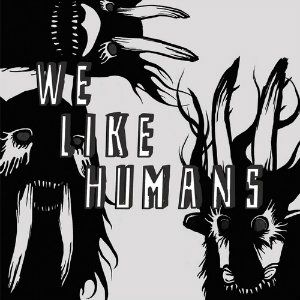 Release Date: July 21st, 2012
Label: Unsigned
Website: www.welikehumans.co.uk
Facebook: www.facebook.com/welikehumans
Twitter: www.twitter.com/welikehumans
Rating:


We Like Humans are small pre-toothed babies in the music industry, with a mere five months since formation. In this time span, most bands will have decided a name and possibly a sound, never mind have written and recorded a four track EP. They describe their sound as "tunes with no bullshit", which is a pretty accurate description of the Preston lads' sound.
The band's sound is still pretty raw and perhaps not as thoroughly rehearsed as it could have been, but for the band's age and it being their first release, this is easy to overlook. Beginning track 'Sort Your Life Out' is a blasting of fleeting fast paced guitars, frantic cymbal crashing and a catchy guitar rhythm. The band's sound has an indie rock edge to it and the vocals stumble from raw and ready to melodic and clean throughout.
The general tone is slowed down as 'Lost My Temper' begins, but it isn't long before the fast paced guitar riffs poke their head out and, coupled with Dan Clayton's voice, produce a catchy song with a pace to both dance along and jump around to. 'Never Forgiven' is the EP's 'ballad', leading the listener through the ups and downs of love and loss. Dan croons along to the sound of soft guitar beats and, although not like anything else on the EP, it fits perfectly.
At five months old, the band have delivered a high class EP considering. If this is anything to go by, their next release will blast away any inhibitions you may have.
Written by Rhian Westbury