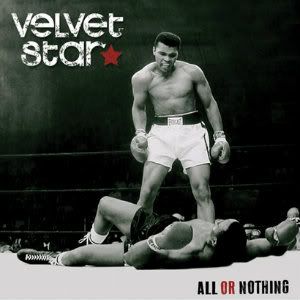 Release Date: October 29th, 2012
Label: Unsigned
Website: www.velvetstar.co.uk
Facebook: www.facebook.com/velvetstarband
Twitter: www.twitter.com/velvetstarband
Rating:

Hailing from Yorkshire, rock 'n' rollers Velvet Star bring us their latest release, 'All Or Nothing'. The band have been carving out a name for themselves on the live circuit and are hoping to make good on these new promises with an EP full of cock rock swagger and punk sneer. This offering delivers for the most part, albeit using some tried and tested tricks along the way.
Opening track and lead single 'Bring It On' storms out of the gate with some old school riffing on display and stylized vocals from frontman Danny Jones. The track does a fine job of introducing you to the band and what they're about, with some guitar licks sure to appeal to any fans of the 80s thrown in for good measure.
The band are all about mixing a vintage American rock sound with a British punk flavour, and they do it well. Each member is an accomplished musician and this shines through stand-out track 'Overrated and closing track, 'Glad You've Gone'. A straight-up punk number sure to get the pits going at shows, it's a fine example of what the band can do when they're in their element. By no means is anything on display here reinventing the wheel, but the ability and technique shown by the Yorkshire lot overshadows this.
Having toured primarily with similar acts such as The Treatment and other R'n'R revivalists, you can't help but wonder the band are cornering themselves into a bit of a niche market. There's not much on offer to appeal to the masses, which isn't everyone's game, but you do worry that there's only so far they can take this sound.
Velvet Star have shown us they can excel in their chosen field with ballsy riffs, excellent vocal work and headache inducing drum work. While they might be a new dog using old tricks, they do it with enough confidence and conviction to pull it off.
Written by Alex Garland