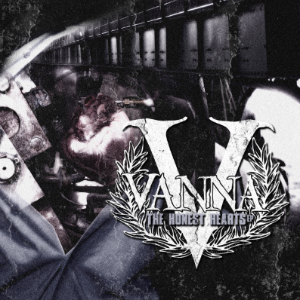 Release Date: October 12th, 2010
Label: Artery Recordings
Website: None available
MySpace: www.myspace.com/vanna
Rating:


Member changes can often lead to the slowing down of a band, or at least a change of sound in some way or another, but Vanna are an exception. 2010 has been a good year for the Boston based 5-piece, even despite the altered members involved. New vocalist Davey Muise has taken Chris Preece's place, and his first showcase on 'The Honest Hearts' EP proves he is more than capable of filling his shoes.
'Lost And Bound' gets things going with a classic post-hardcore Vanna style that we've all come to know and love from the band, with their eratic guitar riffs, pulsating drums and newcomer Davey's belting screams. 'Passerby' brings into play Evan Pharmakis' clean vocal inserts strongly alongside breakdowns that avoid being stagnant, leading to a monster of one towards the track's climax, and ultimately stands as the EPs biggest highlight. Re-recording 'Trashmouth' from last year's album 'A New Hope' with Davey was a risky move, but one that has paid off and really gives evidence of the great replacement choice, by making the track much meatier, fresher, and arguably stronger than it was before.
One of the biggest pros of the EP is the production value, avoiding the overboard and extreme polishing that leads to many bands hiding their flaws, leaving a release that sounds on record just like it would live. Masking any diminishing features can work for face value, but in the core it leaves little respect or substance for the artist in question.
'The Honest Hearts' is a great way to introduce new and old fans alike to newcome Davey Muise's style and input to the band, and is more than enough proof that he's going along with the band in the right direction and helping where he can. If anything, this will leave you waiting on your toes for the full-length to follow.
Written by Zach Redrup
Founder & Editor for DEAD PRESS!