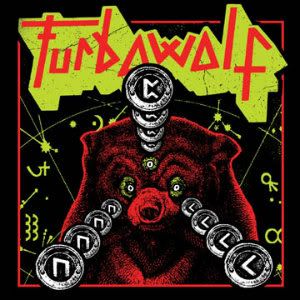 Release Date: October 8th, 2012
Label: Hassle Records
Website: None available
Facebook: www.facebook.com/turbowolf
Twitter: www.twitter.com/turbowolfband
Rating:


Turbowolf have been sonically destroying our ear drums and warping our minds with their fuzz-loaded psychedelic rock for many a year now, and after smashing this year's festival circuit they have released this covers EP, the first of many yet to come.
From the offset, there's that distinct Turbowolf sound. Screaming vocals, heavy distortion and tone instantly making The Hives' 'See Through Head' their own. It's appropriately intense with that dense rock 'n' roll vibe that makes Turbowolf so interesting. The track is pretty straight-forward and just ploughs through with fast-paced ferocity leading beautifully into the next track, 'Electric Feel'.
Much more of slower groover, this song is simply infectious. The instantly recognisable bassline has such a low end due to their close attention to detail when it comes to effects and bass tone. This is wonderfully offset by the high-pitched vocals which singer, Chris Georgiadis, absolutely nails. Again, the ability to have such an impact on a song and make it fully 'Wolf' whilst keeping its original essence and catchiness is outstanding. The song is only a few years old, but has been ringing in peoples' ears since its release and has been revitalised by Turbowolf even further. This is a classic cover of a classic song.
To cover a song by a band such as Lightning Bolt is such a monumental task as their style is so completely unique. Unfortunately, I feel Turbowolf didn't quite achieve what they set out to do on this. The repetitive riffs work for the song's creators, but are slightly overwhelming and even annoying due to Turbowolf's harsh tone. It really lost the true nature of the song and its intention of tripping the audience out. Instead, I found myself waiting for it to finish. Not the desired effect, I imagine.
Now we come to a cover of perhaps the catchiest song ever, 'Somebody To Love'. This song is quite simply amazing. A synth intro creates a foreboding atmosphere with a sci-fi edge before smashing into the up-tempo melody. The nostalgia-filled chorus is just as catchy and thumping as the original, but again with that Turbowolf twist. This track is a serious thrasher whilst remaining light-hearted and catchy.
The majority of the EP is unbelievable, but I'm afraid it's breaking no boundaries. I know, I know, it's only a covers EP, but I'd just like a little more from it. The record is a good way to keep fans happy between full-lengths and, while the songs are good, I just feel the time spent on this could have been spent on creating original material. That said, the selection of songs is well thought out and interpreted in a brilliant, mammoth, Turbowolf way (for the most part). I hope the same kind of creativity goes into their next record.
Written by Jack Bastard