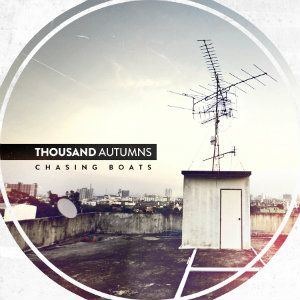 Release Date: June 25th, 2012
Label: Unsigned
Website: www.thousandautumnsofficial.co.uk
Facebook: www.facebook.com/thousandautumns
Twitter: www.twitter.com/thousandautumns
Rating:


Another sampling of south bred metal comes from Thousand Autumns, who have recently produced a four track EP, titled 'Chasing Boats'. The debatable free download of their first EP 'City Of The Sun' back in 2010 may have not hit the spot with everyone, but it did cement the band's place on the scene, leading them to support bands such as Exit Ten, Never Means Maybe and Mallory Knox. 'Chasing Boats' moves on from this, refusing to leave room for debate with its plethora of different sounds and heavy melody.
Kicking things off is lead single 'White Compass' which from the strength of the aggressive drum beats, fast paced guitar riffs and raw deep screams seems like it could be a repetition of so many other bands we hear. But, with the change to softer cleaner vocals a few seconds in, the track is instantly transformed from generic to something a bit deeper. Josh Fox's singing is melodic, sweet and bouncy, yet his scream bites hard and deep.
'Mud' has a more melodic start, the instrumentals are still heavy and chug hard but the singing softens the harsher edge. Chugging metal core riffs kick in to announce the arrival of the screams as they prepare to do battle. The constant transition between the two vocal abilities from one man is enough to impress anyone.
Introductions are something Thousand Autumns seem to excel on: every track opens with such a hook you are demanded to listen to it in its entirety. 'For You' is no different; compared to the rest of the EP this seems to be as soft as the band get, filled with passion and an infectious backbone which will take residence in your head ready to take action at any moment. Final track 'Chasing Boats' seems to roll up the high points of every track and fits with the statement 'save the best 'til last'. It's heavy and fast paced whilst the last segment of the song is hypnotic with just Josh's voice and a constant pounding drum beat before the rest of the instruments slowly get introduced back in, maintaining the calming feeling produced.
Thousand Autumns are part of the underground British music scene, ready to just explode out there. They're going to continue to make noise until more people realise what they're missing out on.
Written by Rhian Westbury
Founder & Editor for DEAD PRESS! | Atheist and antitheist. | Judge of the quick & the dead since 1989.