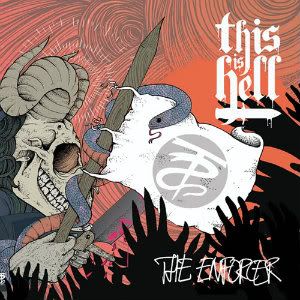 Release Date: March 4th, 2013
Label: Holy Roar Records
Website: None available
Facebook: www.facebook.com/thisishellny
Twitter: www.twitter.com/thisishell
Rating:

New York thrashers This Is Hell continue their immersion into the thrash/hardcore mixing bowl with their latest EP, 'The Enforcer'. With their own three tracks each bringing something different to the table while their tip-of-the-hat to Metallica works itself up into a fury in the corner, it's a nice tide-over from 2011 full-length 'Black Mass' to whatever is coming next. Based on said three tracks, whatever does come next certainly ain't gonna take any messing from the big boys in the 'yard.
The call-to-arms feel of 'Flag Of The Serpent' drags things up to speed. An instrumental that sounds like the little brother of the late Cliff Burton's majestic 'Orion', it shows off a slick, melodic lead before stoking the flames with a wah-soaked solo that goes from zero to blistering in just a couple of bars. After it fades, the EP's title-track comes out to play. With its Municipal Waste vibe, it has an infectious energy, thrashing its way to its hardcore outro (one made all the more heavy thanks to the drums) and into 'Walking Abominations', another pummeler that gets its groove on towards the track's end while the lead guitar gives us one last flourish.
Covering a Metallica classic and making it sound that little extra furious, This Is Hell round the EP in confident style, while at the same time perhaps showing where they're headed on the next full-length. But anyway, back to today. Clocking in at under 12-minutes, 'The Enforcer' is short but goddamn is it sweet. Thrashtastic stuff and definitely something that'll invite 'The New Wave of American Thrash Metal' to up their game accordingly.
Written by Ryan Williams