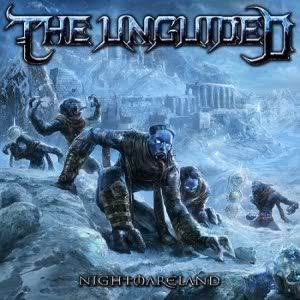 Release Date: April 1st, 2011
Label: Despotz Records
Website: www.the-unguided.com
MySpace: www.myspace.com/officialtheunguided
Rating:


Born from the collapse of Swedish metallers Sonic Syndicate, The Unguided, who feature vocalists Roland Johansson and Richard Sjunnesson from SS, have "one main intention—to enforce the classic song writing of Sonic Syndicate". That's what their website says anyway, and from what is presented on 'Nightmareland' they seem to be heading in that direction.
Clocking in at a measly nine minutes, 'Nightmareland' is little more than a taster, a snippet of things to come from their debut album. Still, for these former Sonic Syndicate guys, the two tracks here certainly sound like business as usual. 'Green Eyed Demon' opens in satisfying enough fashion, with a techy tap riff and double-pedal assault. The vocals are rough and raw, and the build to the chorus is relatively stirring. The chorus is another good example of melodic metal done right, with a sweeping keyboard adding definition to the chugging guitars. So far, so good. It is perfectly listenable, but nothing spectacular.
Next up is 'Pathfinder'. With a feeling and tone firmly in the Killswitch Engage camp, the guitars rattle through the riffs and screams tear over the top of a noticeably retro-sounding keyboard line. The chorus is almost poppy. It's catchy and the vocals lack any bite, and it all feels a little tame. Then there is a soaring but familiar solo, before the song rolls to its natural conclusion.
Fair enough. 'Nightmareland', short as it is, contains two okay melodic metal songs that are perfectly enjoyable. But, does it really live up to their mission statement: "to enforce the classic song writing of Sonic Syndicate"? Well, frankly no, not really. Neither of the tracks here will become classics and are relatively forgettable. They are however, a good indication of material to come. With a musical past that includes 'Only Inhuman' and 'Love And Other Disasters', two Sonic Syndicate albums often held up by fans as their best work, it is reasonable to hope that Richard and Roland still have a few good songs in them yet.
However, with only two mediocre tracks on offer on 'Nightmareland', it's a difficult EP to recommend. If you literally cannot wait for The Unguided to release their full-length, then pick this one up. But if not, maybe you'd be better off listening to some classic SS for now instead.
Written by Grant Bailey