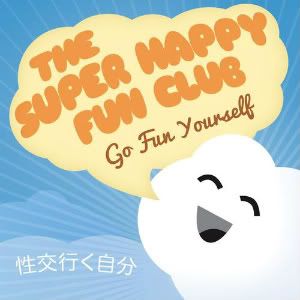 Release Date: November 7th, 2011
Label: Throop Records
Website: www.thesuperhappyfunclub.com
Facebook: www.facebook.com/thesuperhappyfunclub
Twitter: www.twitter.com/shfclub
Rating:

With a name like The Super Happy Fun Club and a fluffy and cheerful album cover and title, it's not difficult to hazard a guess at what this album sounds like. Sure, it has its moments that elude a slightly more 'punk rock' attitude than you would presume, but fans of the increasingly popular pop-rock brand of alternative music, namely fans of fellow Chicago band Fall Out Boy and the fun, feel good attitude of Bowling For Soup, will lap this EP up completely.
Opening with the catchy party rock anthem 'My Life's A Mess (Yeah Yeah Yeah)', it's clear what direction this album is going in from the get-go. Bursting with catchy lyrics that are guaranteed to get stuck in your head all day long, big choruses, and rhythmic drumming to match, 'Go Fun Yourself' is all about the feel good factor, unashamedly choosing catchiness and bounce over originality and bold statements.
In just 42 seconds, the undeniably fun 'Billy The Entertainer' captures the amusement and upbeat sound that wouldn't seem out of place if found on a Bowling For Soup record, whilst Stubhy Pandav's vocals give it a touch of punk. It's a song that you can't help but enjoy and will certainly stick around in your head for hours afterwards. Big sing-along choruses, representative of this genre of music, are present throughout this album, with 'Light Pollution' and 'Partners In Crime' exemplifying this archetypal pop-punk technique.
Although 'Go Fun Yourself' is not a lot different to a lot of the recently formed wave of pop-punk artists out there, they're a band that are all about having fun, as their album title and band name suggests. This attitude shines through on this record, making it a pleasure to listen to. It's a sound, bubbly debut that will certainly draw in fans from the younger generation of pop-punkers. 'Go Fun Yourself' is a promising start from the Chicago boys, who have already shown the UK what they can do whilst touring around the UK supporting Madina Lake this November, drawing large crowds and winning over fans.
They're a band that just want to entertain, and entertain they do, making it almost impossible to feel angry or down while listening to this slice of bubbly pop-punk perfection.
Written by Ashleigh Wight