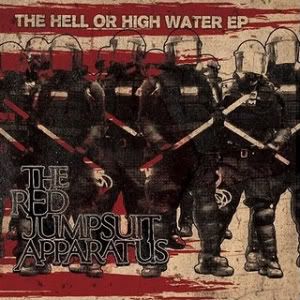 Release Date: August 24th, 2010
Label: Unsigned
Website: www.redjumpsuit.com
MySpace: www.myspace.com/redjumpsuit
Rating:

If you know who The Red Jumpsuit Apparatus are, it's probably from their debut incatiable single 'Face Down', taken from the just as incatiable debut album 'Don't Fake It'. Everything went pretty steep downhill from there, with a hugely disappointing flop of a sophomore record which held very little potential in a band which once shone as a break in the mold post-hardcore act.
Ditching previous label Virgin Records and going all DIY with new EP 'The Hell Or High Water' is The Red Jumpsuit Apparatus' attempt at crawling out of the grave they dug themselves over the past few years, and though a clear step up from 'Lonely Road', it still leaves a stench of disappointment and holds much room for improvement.
Opener 'Casting The First Stone' and 'Will You Stand?' have gang vocals aplenty. Not good being barraged by such things when they're this invigorating, holding much potential for leaving a headache or migrane. The popping and strained screams in 'Don't Hate''s breakdown is another buzzkill in what could otherwise be a fairly decent track if it was left without. Lyrically the cringing continues on, with lines like "You can do you / 'Cause I'm-a do me / And there's not a damn thing you will achieve" bringing a sense of juvenility into play. Of course relationships are usually the main focus with any post-hardcore band, but a bit of originality can do wonders.
Thankfully there is some progression and hope that this is just one small step on the way to their more suited roots, with the EPs title-track and 'Choke' showing some face of 'Don't Fake It' era work. But please, at all costs steer away from 'Casting The First Stone'. Dreadful doesn't quite sum it up accurately enough.
A band should definitely progress, mature and evolve with each new record, but with 'Lonely Road' the band chose the wrong road and an apt title, and 'The Hell Or High Water' isn't a great help in getting back into a good place. Though still pretty flat overall, it's good to see that in some areas The Red Jumpsuit Apparatus are on their way to recovery.
Written by Zach Redrup