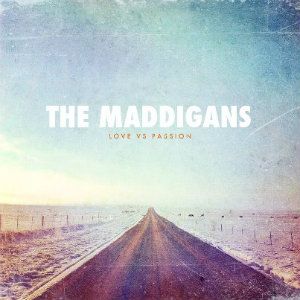 Release Date: July 31st, 2012
Label: Unsigned
Website: None available
Facebook: www.facebook.com/themaddigans
Twitter: www.twitter.com/themaddigans
Rating:


After releasing their first EP 'Way To Start' back in 2010, Canadian pop-punk band The Maddigans have done a lot of growing. Since forming in 2008, the band have grown a worldwide fanbase, tragically lost their ex-bassist Thaddeus Lake and have found themselves recently on their first UK headline tour to promote their brand new EP, 'Love Vs. Passion'. It's needless to say that the band have come a long way from their Edmonton roots.
The five song EP can be compared to the likes of a variety of popular bands at the moment, such as We The Kings and We Are The In Crowd, but there's something which really stands out about singer Trisha Watson's voice against the upbeat and original sound that the band makes.
Much like 'Way To Start', the songs on 'Love Vs. Passion' are purely pop-punk, but have a real signature feel to them. It's something that's hard to come by with the amount of pop-punk bands emerging at the moment, but The Maddigans have really managed to weave their own styles throughout the songs.
The standout song on the CD is definitely the closing track, which starts off with a softer sound and overall has a more alternative sound to it. However, each of the songs on 'Love Vs. Passion' sounds individually crafted by the whole band and really emphasises the amount of work that the band have put in to it.
Although The Maddigans are fairly new in the broad spectrum of the music industry, this EP sounds like one to push the band into eyes of pop-punk music lovers worldwide. The amount of energy put into the release sets them apart from just another pop-punk band and firm ones to watch. An overall feel good, easy to listen to and stunning EP by a band with a great amount of passion channelled into it.
Written by Caitlyn Dewar