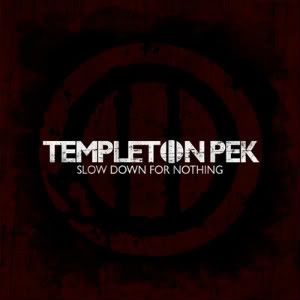 Release Date: January 30th, 2012
Label: People Like You Records
Website: www.templetonpekofficial.com
Facebook: www.facebook.com/templetonpek
Twitter: www.twitter.com/templetonpek
Rating:


With a series of high profile support slots already tucked firmly under their belt, most notably with a trek across Europe joining punk heavyweights Rise Against, it's clear that Templeton Pek have learned much from their time on the road. And, on the evidence of their new 'Slow Down For Nothing' EP, they are destined to stay on the road for the foreseeable future.
Although nothing particularly innovative or original, Templeton Pek succeed in the all too rare ability to pen great, straight forward rock tunes. Whether it's the clattering pace and towering hooks of 'What Are You Waiting For', the quirky, danceable riff work throughout the dynamic 'Clarity' or the upbeat punky bite (not to mention a fantastic breakdown replete with some beautifully shimmering guitars) in 'Signs', ultimately it is the band's consistently solid songwriting chops that shine through.
Coupled with a superb instrumental performance all around and a decidedly impassioned vocal delivery, it is certainly fair to say that there is little to dislike here. Nit pickers may complain that things tend to get a little samey as we near the EP's conclusion, yet with songs this strong this is undoubtedly a minor grumble.
With such a excellent collection of new tracks primed to slot into there live arsenal, it's difficult to see anything but a bright future for Templeton Pek. Their sound, whilst remaining digestable enough to interest a vast audience, retains a refreshing sincerity and sense of honesty which should see the fans flocking to them. More of this please lads.
Written by Tony Bliss