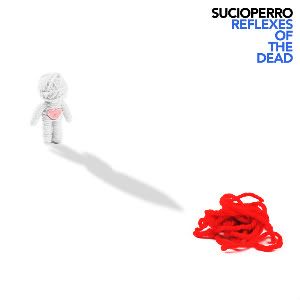 Release Date: February 28th, 2011
Label: Xtra Mile Recordings
Website: www.sucioperro.com
MySpace: www.myspace.com/sucioperro
Rating:

Sucioperro is a band that many people will not have heard of to date; this year they hope to change that, with the release of this EP and full-length 'The Heart String & How To Pull It' to follow later this year. Despite being virtually unknown they've managed to tour with bands like Reuben, Fightstar and Biffy Clyro, (lead singer JP Reid actually forms the other half of Biffy front man Simon Neil's alter ego, Marmaduke Duke), so they have a reputation amongst some pretty big bands, but do they have the recordings to provide a foundation for this reputation?
Well, if they do then they must be found elsewhere as for the majority of this EP, their uninspiring indie rock is pretty bland throughout. The opening title track 'Reflexes Of The Dead' provides a glimpse of the 'cute' melodic rock they're capable of, as they fuse acoustic guitars with electric guitars under some very Simon Neil like vocals. This vocal trait is a regular throughout; imagine a dry, slightly higher version of the bearded wonder and you should find JP Reid, and even this comparison doesn't apply to every track. As far as the Biffy comparisons go, that is the furthest they go. It's clear that the only thing these two bands share is their homeland.
On some tracks, the band tend to veer into territory previously occupied by Vampire Weekend, and this comparison is especially present in songs like 'Finally Found It' and 'We Take The Shelter From The Trouble We're In'. Well at least the comparison can be made instrumentally as Reid's breezy Scottish accent still filters through. Closer 'Send Away The Wolves' follows the trend of the rest of the EP; by ending just as it's about to kick off.
Whilst this isn't a terribly bad EP, its rating is lowered by the fact that is unimaginative and occasionally repetitive. There's not a lot here to separate it from any other band of this sort. It's a decent foundation for their forthcoming album, but one hopes that they will have picked it up a bit on the full-length record.
Written by Oliver Thompson