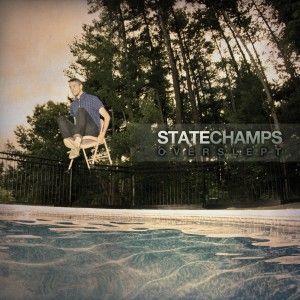 Release Date: September 11th, 2012
Label: Pure Noise Records
Website: None available
Facebook: www.facebook.com/statechampsny
Twitter: www.twitter.com/state_champs
Rating:


Pop-punkers State Champs have been hard at work to produce us this fine little EP, titled 'Overslept'. After a quick glance of their Tumblr page, it seems that these New Yorkers have been touring their asses off as of recently, not to mention they have been playing with a lot of dogs (but not in that way).
Skipping over the pointless 40 seconds intro song, 'Overslept' is a well-written and well performed record. Lead singer Tyler Szalkowski has the perfect voice for pop-punk, with his Americanized vocals adding a familiar element to every melody on here. Through all the songs on here sound virtually identical, they all sound great and easily get stuck in your head. Considering they're still somewhat at an early stage in their career, their music is very clean cut and has a highly polished sound also.
If you're a fan of the greats such as New Found Glory and Fall Out Boy, then these guys are definitely band for you. The lyrics are just as angst-ridden as the pop-punk bands of yester year and the riffs are just as bouncy too. In fact, it's pretty much the same as everything that has come before it.
But, I'm guessing that State Champs aren't here to start some bold and shocking musical revolution. No, they're just here to make some bloody good pop-punk tunes and they have done just that with 'Overslept'.
Written by Andy Roberts