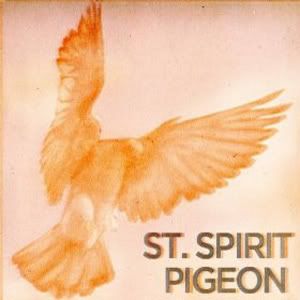 Release Date: February 20th, 2012
Label: Distiller Records
Website: www.stspirit.com
Facebook: www.facebook.com/stspirituk
Twitter: www.twitter.com/stspirituk
Rating:


South London boys St. Spirit have released their debut EP, 'Pigeon', a record that showcases a brand of indie-rock that is increasingly becoming more popular, and quite rightly so. Opening title-track and first single 'Pigeon' is one of the strongest tracks on the record. Although, topically, it is quite odd (in case you were wondering, the title is not metaphorical – it is about a pigeon), there are some great lyrical moments. Beginning with the gentle plucking of the guitar over subtle percussion before vocalist Myles McCabe's voice chimes in, the track steadily builds up into an energetic well-composed slice of indie rock that sets the EP off with a bang.
However, even though it seems faultless, it's a song that has been played by countless other indie rock bands that are creeping into the mainstream. That being said, they play it well and this single is sure to bring them success and get them some recognition.
Heartfelt and emotionally-charged lyrics are among one of the record's highlights. Second track 'Sweat', a melancholy contrast to the fast-paced opener, is one of the best examples of McCabe's outstanding vocal efforts. Starting off with gentle, melodic words, his vocals slowly turn more frantic and distressed as the track progresses, suddenly stopping and switching to a soft tuneful hum at the song's climax. His delivery is so intense that goosebumps are to be expected – a great achievement for any songwriter.
This melancholy mood continues throughout the remaining two tracks of the EP, but they do offer some surprises. Both tracks may start off acoustic and slow, especially final track 'Tooth & Nail', which opens with a piano-led intro but builds up into a decent bit of guitar and percussion work, complete with quietly-spoken lyrics. 'New Skin' is similar in this respect, starting off acoustic and low, but ending on a chaotic note with thrashing guitars and cymbal crashes.
St. Spirit have produced a sound debut effort which successfully showcases the different sides of their musical ability; from the moody and melancholy to the lively and energetic. A great start to the band's career and one that will hopefully gain them some fans along the way.
Written by Ashleigh Wight