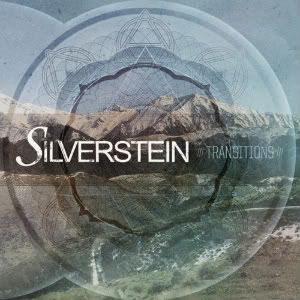 Release Date: December 7th, 2010
Label: Hopeless Records
Website: www.silversteinmusic.com
MySpace: www.myspace.com/silverstein
Rating:

Long-time Canadian post-hardcore game players Silverstein have garnered a great deal of respect, and a solid fanbase since their debut label release 'When Broken Is Easily Fixed' through Victory Records in 2003. Their move onto new label Hopeless Records with almost a new album's worth of new material to finalise and record could set a new stepping stone in their career, but to keep appetites strong with 2 new songs set to be on the record along with some b-sides, the quintet tease us with the 5-track 'Transitions'.
The two tasters of their forthcoming fourth full-length 'Sacrifice' and 'Darling Harbour' bring back the usual and comfortably familiar Silverstein we've all come to know, the former being more of a faster and heavier speeding attack of screams and precise guitar riffing bearing similarities to 'Smashed To Pieces', and the latter being a much more calmed and level-headed slice of what's almost pop-punk.
Their cover of Nine Inch Nails' track 'Wish' is more of a hit-or-miss effort, sure to not go down well with their hardcore fans, though as with every cover should undoubtedly act as a window into getting more fans onboard with NIN. However, this combined with the other remaining tracks doesn't really make it worth investing in unless you're dying to hear some of the new album.
This is only worth purchasing if you're a die-hard fan, otherwise you may aswell just wait a little bit longer for the full-length to show itself.
Written by Zach Redrup