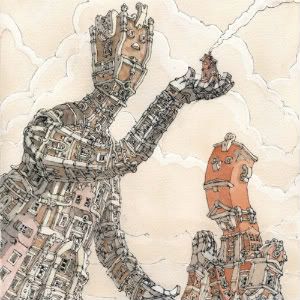 Release Date: September 1st, 2011
Label: Unsigned
Website: None available
Facebook: www.facebook.com/secretbandgd
Twitter: None available
Rating:

Even with such a turbulent recent past of revolving band members, and now ultimately the resulting hiatus, Dance Gavin Dance have – despite this – managed to remain a tremendously prolific outfit, putting out no less than five stellar releases in their six year history. Which is why it is both somewhat surprising and rather expected that a side-project featuring the whole band (minus Jonny Craig) has emerged, as we begin to wonder where they find the time, yet expect them to have more than enough material as they continue to prove themselves to be teeming with creativity.
And so, coming from these musicians, Secret Band in all honesty sounds exactly how we would expect it to sound, which is certainly no bad thing. Snaking guitar riffs meander constantly, intertwining harmoniously such as in the fantastic light and shade of 'Devil's Gospel', with the same being said for stand-out track 'Stuck And Glued', which opts for a more straight up pummeling route before the sparkling melodicisms take over. Vocalist Jon Mess lays down an admirable performance, delivering his trademark rasping yelp with all the impassioned strains he has made his signature stamp, especially on the quirky 'Breakfast Time', where at points he sounds utterly enraged.
Indeed, Secret Band make a satisfying case in point. Many, given Jonny Craig's undeniably exquisite singing voice would label him as the heart of the band, yet with this EP we have a shining example of what these guys can do without him, and it's clear that with their collective innovation and profitiency, their future creating music is virtually guaranteed with or without him. Whilst these songs may have benefited from his presence, he is certainly not missed, and with a impending full-length also in the works, Secret Band will soon be much more than just a side-project.
Written by Tony Bliss