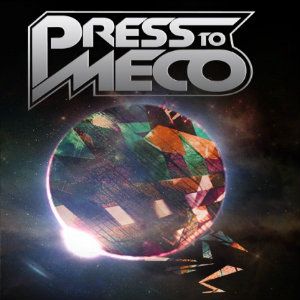 Release Date: July 9th, 2012
Label: Unsigned
Website: None available
Facebook: www.facebook.com/presstomecouk
Twitter: www.twitter.com/presstomecouk
Rating:

'MECO' is actually a term that NASA use when a rocket in orbit cannot return to earth and stands for main engine cut off, a pretty frightening and bleak prospect especially for any budding astronaughts reading this. However, Press To Meco make the furthest thing away from bleak rock music you can possibly imagine. A pulsating and energetic mass of gloriously catchy riffs and sickly sweet vocals make up their first self-titled EP, 'Press To Meco'. The music thunders along at an astonishing rate, almost as if guitarist Luke Caley and bassist Adam Roffey can't wait to hit the next bridge or riff and this is by no means a criticism.
Opening with riff work reminiscent of The Fall Of Troy that suddenly collapses into a more peaceful 65daysofstatic vibe and continues to do so throughout, first track 'Burning The Reward' certainly lives up to the influences the band draw upon. On their Facebook page, they cite their influences as simply 'everything', and while some new listeners may be frustrated by the lack of clarity, it makes for a hugely entertaining listen.
'All The Same' slows on the pace a tiny fraction to make way for some giant riffs and they even find time to slip in a mathcore breakdown, much like the stop start fury of Rolo Tomassi. However, you won't find any screaming at all throughout the album, just the duo vocal power of all three members of the band. Even drummer Lewis Williams finds time to lay down so lyrics whilst punching out some infectious beats.
'Loose Rooms' and 'Rational Way' continue to raise heartbeats and spirits before the album comes to a disappointingly abrupt end. At only four tracks it certainly leaves you wanting much more.
Press To Meco seem to have tapped into everyone's guilty pleasure of having a good old sing along and this must be apparent in their live shows. They sound like the sort of band that if you saw live and didn't know the songs, you would be feeling pretty left out if everyone else did. They are the sorts of songs you want to memorise so you can wail along unashamed and free. Much like Four Year Strong and Set Your Goals, this is positive rock music to jump around to with your friends not beat each other to death to.
Written by Steven Potter