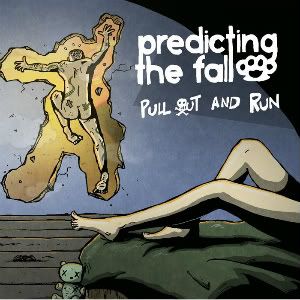 Release Date: August 15th, 2011
Label: Unsigned
Website: www.predictingthefall.com
MySpace: www.myspace.com/predictingthefall
Rating:


Predicting The Fall have achieved a lot since forming just over a year ago. Bursting onto the Canterbury music scene, they have found themselves on the bills of two festivals; Hevy and Lounge On The Farm, as well as a slew of local gigs that has seen their fan base grow. Continuing to build upon their 2010 EP 'Go On Just Get One Out', 'Pull Out And Run' sees the band honing their sound and improving their song writing skills.
'If A Cat Were A Horse We Could Ride Up A Tree' is a strong opener with a driving rhythm. The twin guitars of Simon Standen and Steve Birch help fill out the sound, and their chugging riffs give the choruses real weight. A surprisingly crushing breakdown at the end is welcome, and helps provide a contrast with the next track, 'Suck It Til Your Ears Touch'. Leaning more towards the pop-punk side of their sound, 'Suck It…' is the catchiest track here, with Lee Hanson putting in a great performance on the bass, helping to propel and augment Dan Hoare's relentless drum beats.
Third track 'I've Clapped Twice, Don't Make It Thrice' is a little less memorable then the openers, but a satisfying loud/quiet dynamic as well as a superb drum-lead breakdown makes the song worth a listen. Their influences are clear, walking a familiar line between pop-punk and metal that A Day To Remember made their own, particularly in the 'For Those Who Have Heart' days. Luckily, 'Don't You Dare Say I Told You So' brings some variety to the EP.
A quieter number, 'Don't You Dare…' lets PTF demonstrate their softer side, with Ross Gilbert giving his scream a rest for a few minutes, adding a complimentary vocal line to the intertwining acoustic guitars. Most notable about this song however is the inclusion of a fantastic sample, HORSE The Band style, lifted from the film Taken. Liam Neeson's voice lends real menace to the track and provides a perfect set up to the heaviest, and final track on the EP. 'Smell My Revenge' is short and sweet; a melodic but brutal two and a half minutes with the best breakdown on 'Pull Out And Run', with wailing guitars and a double pedal assault.
PTF are definitely a band with a sense of humour, but from this evidence it is clear they take their music seriously. There may be a few missteps here and there, but overall 'Pull Out And Run' is a strong release, demonstrating the band's range from catchy pop-punk to well-executed metalcore. Definitely worth a listen.
Written by Grant Bailey