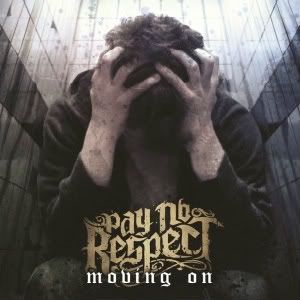 Release Date: August 16th, 2010
Label: Case5 Records
Website: None available
MySpace: www.myspace.com/paynorespect
Rating:


Hardcore has been rising and rising in the UK in recent years. Ever since Gallows exploded onto the music scene many similar acts have began following in similar footsteps, most recently being the likes of TRC, More Than Life and Lower Than Atlantis. One more band are in the same ever-growing queue for hardcore success: Pay No Respect.
Following such an immitating flock is a risky move, one that could only go one of two ways; very well or just dreadful. Luckily with mini-album 'Moving On', Pay No Respect sit comfortably in the former of the two as opposed to the much more populated latter.
They're fast, aggressive and visceral; the basic resume you're looking for with any hardcore band. Joe Kennedy's vocals are wrath ridden without letting the anger mask over the fact that there's actually half decent songs composing 'Moving On', all driving the focused emotions forward. Even a few of the formulaic gang shouts are shoved in tracks like 'You Failed' and the mini-album's title track, closing off proceedings with a perfect call and response line, "I'm moving on / Time to be strong".
It's nothing brand spanking new and in that sense it should be a fairly disappointing release, but there's a crispness and passion there that prevents it from being just that. Pay No Respect should certainely be ones to watch out for, because though it's not in their grasps yet success and a decent fanbase aren't impossible.
Written by Zach Redrup