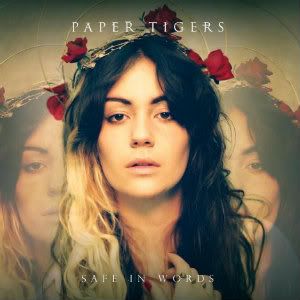 Release Date: November 5th, 2012
Label: Unsigned
Website: None available
Facebook: www.facebook.com/wearepapertigers
Twitter: www.twitter.com/papertigersuk
Rating:


If you want to know the formula that goes into creating Paper Tigers, all you need to do is whack a slice of Kids In Glass Houses in a blender topped with some Boys Like Girls and You Me At Six and BOOM, you've got your band. It didn't take me long to realise that this band will have teenage girls falling at their feet and melting to all of their records. I most certainly did upon first listen, and I passed our teen years more than a while ago.
To some, this can perhaps be a bad trait, when a band is so similar to another some just dismiss them. Hopefully this won't affect the success of this band's debut. I can't help but feel that four tracks is just not enough, from the word go the band explode into addictive guitar parts and your typical pop-rock type choruses.
It's so easy to learn the lyrics to songs like these, and surely that's never a bad thing. If you find yourself singing along after the first few plays then surely the band have done exactly what they should.
It's hard to pick a favourite song, because all four tracks are outstanding, with the EP opener 'Summer On Blossom Street' edging towards the worthy addictive front-runner. Grab your hairbrushes ladies, these four tracks are your summer 2012 anthems. 'Safe In Words' is a new pop-rock favourite, for sure.
Written by Steph Knight