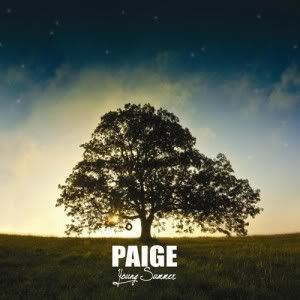 Release Date: January 24th, 2011
Label: Unsigned
Website: None available
MySpace: www.myspace.com/paigeuk
Rating:


Hertfordshire quintet Paige have had a far from perfect start to 2011, displaying yet another line-up change with the loss of guitarist/vocalist Dominic Ganderton. Nevertheless, January 24th saw the release of the pop-rockers' highly anticipated EP, 'Young Summer', which to be honest they should have kept to themselves.
Having said that, the 5-track effort isn't a complete monstrosity. Title track 'Young Summer' exposes Paige at their very best, delivering a massive hook, contagious chorus, and a sing-a-long even New Found Glory would be proud of. However, this is a very short lived high on an extremely average record. 'Stay Awake' is a song that wouldn't be sound out of place on a McFly album, while 'Circles' is lyrically pitiful, setting the tone for an excruciatingly dull and far too familiar 15 minutes of listening.
There are lamp posts out there with more character than this seemingly soulless attempt of a follow-up to 2009's 'If You Say So'. It's obvious Paige have fallen quite a distance short of what was expected, and closing track 'The Truth' projects all that is wrong with this collection of poppycock; an immensely annoying, repetitive, tediously americanised attempt at an anthem.
In all honestly, the only notable progress Paige have made is a much better sounding production, but if only they had the songs to match it. Someone should really have told them that Man Overboard want pop-punk defended, not murdered.
Written by Chris Loomes