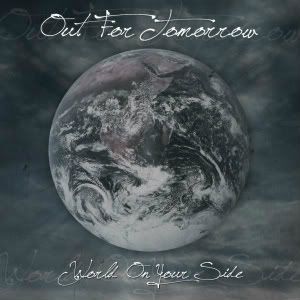 Release Date: September 3rd, 2011
Label: Engineer Records
Website: None available
MySpace: www.myspace.com/outfortomorrow
Rating:

Out For Tomorrow are a band who appear to have the world on their side; having started out practicing in a garden shed little over a year ago, now on the brink of the release of their second EP, having shared a stage with Deaf Havana, Devil Sold His Soul, Lower Than Atlantis, Futures and many more. However, this is not a case of luck, not in the slightest. Out For Tomorrow are a very committed, driven band who put in 110% for anyone who has heard of them before, and if not, then it is blatantly obvious in this four track outing.
Opener 'World On Your Side' springs into life with catchy melodies and beautiful vocal harmonies, fused with simple but effective lyrics, and a chorus that even the most veteran pop-punk acts would be proud of. It seems odd to mention pop-punk though and to box this band in a genre, as we sometimes just get a hint of rock ballad from Ben Lumber's vocals, a man with a very distinctive voice, like a slightly more polished version of Lower Than Atlantis' Mike Duce, but a notch or two down on the aggression scale. You could be forgiven for calling this easy listening at times, however Jack Isaac's and Ash Scott's guitar riffs tell a very different story. This is a song packed with effort and emotion, and manages to showcase the talents of every member of the band.
'Breathe' is the second track on the album, and just for ten seconds we believe we have been given a chance to breathe, however the vocals burst in again, with the same emotion that we now know from Lumber. His voice has been honed and perfected, sounding like the UK's answer to Chad Kroeger or Chris Daughtry at points of this EP. The main thing about this band collectively though is the depth of their ability. In each song, you can hear every instrument playing their part. There are no passengers.
Closer 'Green Eyes (Nous Tous Savions)' is completely different. A much higher tempo, and the vocals are less polished, but the emotion is there in abundance. The guitars are heavier, the bass and drums still manage to keep the rhythm superbly. This ever so slightly sounds like You Me At Six from their 'Hold Me Down' era. The only criticism here would be that it's not in tone with the rest of the album, however it is a great song to close the EP with and shows the band's versatility, leaving the listener wanting so much more, and this band's debut album will be one to watch out for.
Written by Gary Cassidy
Founder & Editor for DEAD PRESS! | Atheist and antitheist. | Judge of the quick & the dead since 1989.