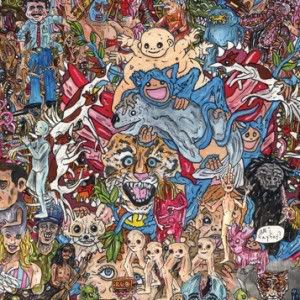 Release Date: April 26th, 2011
Label: Polyvinyl
Website: www.ofmontreal.net
MySpace: www.myspace.com/ofmontreal
Rating:

Brace yourselves. The Georgian eight-piece are back with an EP that is sure to send you on a rollercoaster ride of synth, percussion and utter pandemonium. It may only be a compilation of tracks that didn't quite make it on to their previous record, 'False Priest', but Of Montreal's latest release is sure set to be a surprise.
'Thecontrollersphere' is a violent assault on your ears, crashing through your speakers and rearing its ugly head. Opening track 'Black Lion Massacre' sets the scene; opening with a visceral crash before descending into utter chaos in the form of a surreal tune that will remind you of the music box-esque soundtrack of a horror movie. Vocalist Kevin Barnes speaks the lyrics over an erratic drum beat as dark electronics fill out the already chaotic ensemble, creating what can only be described as a noisy and nightmare-ish masterpiece.
What starts off as utter anarchy ends with anarchy, with final track 'Slave Translator' fading out in a mass of screams and crashing drums, with a lot of what's in the middle an eclectic mix of sounds that work together so well. For example, 'L;age D'or' has a jazzy piano and string vibe that you wouldn't expect to hear on a record that opened as something so noisy, and 'Flunkt Sass Vs. The Root Plume' no doubt echoes the psychedelic sound of legends Pink Floyd – a far cry from the opening track that leaves you reaching for the paracetamol.
But, the genius in the crashing and violence is also where this record falls flat. If this was anything more than a five-track EP, the noise would no doubt become tiring. Just when you think you've escaped the chaos and settled down to listen to what begins as a mellow guitar track 'Flunkt Sass Vs. The Root Plume', the crashing and banging return once more, descending once again into a nightmare for your ears and probably your neighbours too.
However, don't be put off. 'Thecontrollersphere' is definitely worth a listen and the anarchy is definitely intended, given the record's themes of sexuality and religion. It may be a compilation of leftover tracks that the band didn't see fit enough to put on their last album, but it's much better than it seems at first listen. There are strokes of genius, but there are also strokes of utter madness. Make sure the neighbours are out and give it a go.
Written by Ashleigh Wight