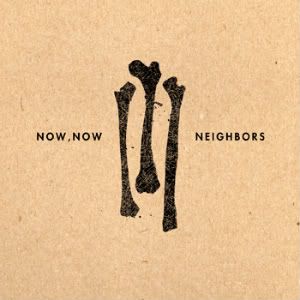 Release Date: September 7th, 2010
Label: No Sleep Records
Website: www.nownoweverychildren.com
MySpace: www.myspace.com/nownoweverychildren
Rating:

It's not often when a record is released that's crafted to be listened to and digested in its entirety in one listening, and transitions from one track to another as effortlessly as Now, Now Every Children's 5-track 'Neighbors'. Such a creation shows a high level of musicianship and talent between a band's members, all aiming and creating tracks that are meant to intertwine in such a fashion.
"Refreshing" would be one of the better words to describe the band's latest EP, being a release that's as dark at times as it is inviting at others. From instrumental opener 'Rebuild' slowly descending you into their somehow picture painting indie, and even to an extent pop rock. Ambience doesn't quite cover it after the crushing guitar chords suddenly force you into their setting in 'Giants'.
Efforts like 'Giants' and the title track makes it crazy to think NNEC have been at it since the members' school days in 2003. It's Casey Dalager's vocals that seem the most haunting yet delightfully reserved that makes 'Neighbors' to be such an interesting and effortless listen, sounding very much like how you'd imagine Paramore's Hayley Williams to come across at her more restrained. There's always something new that you find on a following listen with 'Neighbors' – a quality present in some of the best records.
After signing over to new label No Sleep Records from Afternoon Records previously, NNEC's ethereal sound should hopefully keep on coming. Fans of the now defunct Lydia would welcome this happily, as 'Neighbors' is a stage set for digesting and appreciating with desire in full.
Written by Zach Redrup