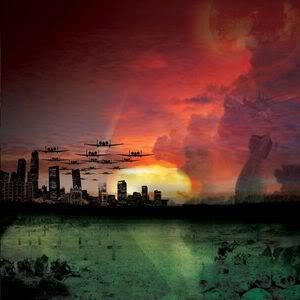 Release Date: May 26th, 2009
Label: Irony Records
Website: None available
MySpace: www.myspace.com/nonethelessonline
Rating:

Don't you just hate common sayings and phrases that you understand but can't really explain the meaning behind them? It's a good thing though that the band None The Less who've used such a name actually sound the dog's bollocks on their debut effort, 'The Way To Save Ourselves'. Coming from Watford, the 5-piece are much like a really good, modernized, and hybridized blend of Motley Crue, Architects, and Fightstar.
Lead promo release 'Define' has a guitar that just churns you into the meat grinder of a song that is to follow. The workings of axe-wielders Owen Harvey and Joe Page compliment one another like custard and cake, but deliver like a sledgehammer upon a skull… in a good way though of course. Owen Harvey's screamed bridge is enough to send shivers down your spine and boil your blood too, sending the signal of rage to the brain. Vocalist Anthony Giannaccini's vocals are strong, and ooze a sense of swagger and honesty in 'News Of A Cancer', with lyrics like "It's been eight days / Since I last played with fire" bringing the element of danger vocally and lyrically that the band perhaps subconsciously send across.
'Four 4's' is a stand-out moment on the EP, showcasing all the strong points the band have at their disposal in their rock 'n' roll arsenal. The drums are fast-paced, the vocals are meaningful and melodic, the guitars are complex and sharp enough to cut through glass, and at times it's even heavier than an elephant's shit. If you only manage to capture one moment of this band's material for whatever excuse you have, be sure to make this the one.
None The Less are a band which have much potential in their helms, and deliver a breath of fresh air amidst the often generic and clone-after-clone world of rock and alternative music today. 'The Way To Save Ourselves' is as polished as it is raw, and as brutal as it is melodic. Ultimately it's just really fucking good!
Written by Zach Redrup
Founder & Editor for DEAD PRESS!