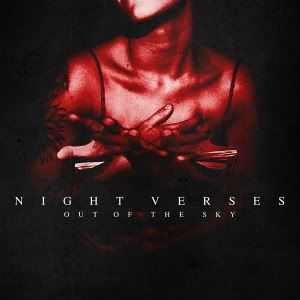 Release Date: May 15th, 2012
Label: Unsigned
Website: www.nightverses.com
Facebook: www.facebook.com/nightverses
Twitter: www.twitter.com/nightverses
Rating:

Gifts always help an introduction go down well. Flowers, chocolate, beer: they all help in kick-starting relationships and turn them into something a little bit beautiful. Night Verses have come to the first date with a free EP, 'Out Of The Sky', available via their website. From this 4-track offering alone, they'd get a hell of a lot more than just an invitation to come back for some coffee.
Massive choruses aren't the rarest thing in post-hardcore, but the depth achieved on this release is something else. Simple chords sound like a Category 5 storm coming out of your speakers, but the production plays only a minor role in creating the impressive soundscape. The frenetic drumming of Aric Improta and soaring melodies of guitarist Nick DePirro bear much of the responsibility for widening the scope.
Opener 'From The Shadows Where I'm Low' launches into a whirlwind straight off the back of the soundtrack-esque intro, before making way for an almost math-rock verse. The cleans trickle down over the tighter-than-tight rhythm section, bringing to mind the jazz-infused tracks of He Is Legend's earlier releases, '91205' and 'I Am Hollywood'.
The off-kilter rhythms return time and again, with 'To The Ends Of The Earth' jinking its way into another strong chorus on Douglas Robinson's part. The former The Sleeping frontman mirrors the contrast between the eloquence and rawness in the guitars as he plays referee in a fight between the euphonic cleans and emotive growls. His voice is on top form across the four tracks; it's controlled when it needs to be, unrelenting when let off the leash.
The range of timbre reached across the EP makes each track distinct, but the band never loses grip of their primary sound. What sounds like tubular bells on 'Be Happy With Yourself, I'm Staying In Hell' may seem outlandish initially, but they work sublimely with the melodies woven by the guitars beneath.
Night Verses have nailed their sound on their début offering; exciting when you start to think of what could possibly come next. A superb set of songs, 'Out Of The Sky' intrigues as much as it dazzles, keeping the unhinged passion of the choruses in check with stringency and sophistication in the verses. Bring on the second date.
Written by Ryan Williams
Founder & Editor for DEAD PRESS!