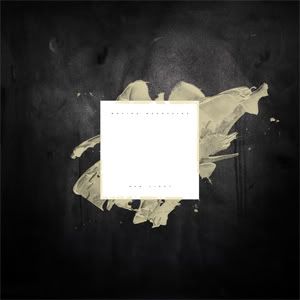 Release Date: April 24th, 2012
Label: Triple Crown Records
Website: www.movmou.com
Facebook: www.facebook.com/movingmountains
Twitter: www.twitter.com/movmou
Rating:

Westchester, New York's ambient/rock trio Moving Mountains have taken it upon themselves to create a 'reinterpretation' acoustic EP, entitled 'New Light'. It's necessary to become accustomed to the band's previous releases, most notably 'Waves' and 'Pneuma', before settling down with your beverage of choice to revel in the finery of this latest release.
The first track off of 'New Light', a re-worked version of 'Alleviate', allows vocalist Greg Dunn to use his soft yet strong voice to his advantage, complementing the almost eeriness of the rhythm section perfectly. The accompanying piano keys in the background with the acoustic guitars help to maintain the ambience of the original sound that Moving Mountains embody.
Following track 'Ode We Will Bury Ourselves' is a re-worked and substantially shortened version of the original track from 2007's 'Pneuma'. Although they've cut out over three minutes from the original piece, Moving Mountains have only enhanced the subtle greatness that the song itself holds.
Where Two Bodies Lie' follows a similar structure to 'Alleviate' and treads along an almost identical aurora to 'Alleviate'. Calm, understated, understood and almost divine. With only one track left to introduce my ears to, it's safe to say that 'New Light' could enchant even the narrowest of musical minds.
That said, the eight minute long concluding track '8105' somehow manages to blow the aforementioned three tracks out of the water. How? Through haunting yet beautiful acoustic guitars, soft, rhythmic drums and unquestionable talent. The almost macabre conclusion to the eight minute piece only irritates me in that I've not paid interest in this band before.
By the end of 'New Light', I feel it's necessary to listen to the record once again in an attempt to find faults. With the faults impossible to come by and painfully unsuccessful in my quest, I can only implore you to listen to Moving Mountains, not only 'New Light' but their previous records too.
Written by Luke Davis