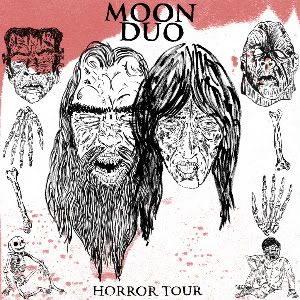 Release Date: October 31st, 2011
Label: Souterrain Transmissions Records
Website: www.moonduo.org
MySpace: www.myspace.com/moonduo
Rating:

It seems that 2011 sure has been a busy year for Moon Duo's Ripley Johnson. After releasing 'West' with the California psych-rockers Wooden Shjips, Johnson has been working on his similarly psychedelic side-project along with synth-playing Sanae Yamada. 'Horror Tour' is Moon Duo's second release in the short space of this year, but while 2011's previous effort 'Mazes' shimmered and gleamed with colourful synth, 'Horror Tour' is a slightly different ball game.
Released in conjunction with the Halloween season, the appropriately named 'Horror Tour' EP has an air of witchcraft about it, full of eerie synth and opening Halloween-esque footsteps and creaking door sound effects that bring Michael Jackson's 'Thriller' to mind.
Predominantly instrumental apart from the drawling vocals on the title track, which are at times overwhelmed and almost drowned out by the repetitive guitars, 'Horror Tour' is a synth-infused yet dark record. It's a novelty in the fact that it fits the Halloween theme very well, with second track 'Causing A Rainbow' breathing a bit of fresh air and upbeat vibes into what otherwise can be classified as a gloomy, eerie record.
At times, 'Horror Tour' gets a little too repetitive. 'Sickener', for example, is ten minutes of dragged out guitar riffs and trippy instrumentals, with little going for it other than that. The first four minutes of the track consist of just the same repeated guitar riff and percussion over a drawn-out synth background. For the ordinary listener, the track does get repetitive to say the least, bringing the initial excitement for the record down.
While the record is only made up of four tracks, these tracks do seem like enough as the record does start to feel more than a little tedious towards the end. Clocking in at just over 23 minutes, you would expect all four tracks to have been used wisely, to showcase their various musical talents. But, instead, the closing track 'Circle Of Evocation Pt. 2' sounds suspiciously like an amplified version of water draining from a plughole for two and a half minutes. Still, with that being said, 'Horror Tour' fits the spooky Halloween season well, and there are some great parts to the first two tracks. It's a shame that the last two were a little bit of a disappointment.
Written by Ashleigh Wight
Founder & Editor for DEAD PRESS! | Atheist and antitheist. | Judge of the quick & the dead since 1989.