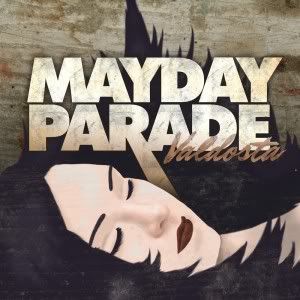 Release Date: March 8th, 2011
Label: Atlantic Records
Website: www.maydayparade.com
MySpace: www.myspace.com/maydayparade
Rating:

This new release from Mayday Parade is an acoustic EP, featuring unplugged re-imaginings of five of their most popular tracks, plus two brand new songs. The album begins with new song 'Amber Lynn', a very good acoustic track, making use of a slide guitar which adds a more laid back, folk-y angle to the song. The vocals are very catchy, and are shown off by the bare bones of the instrumentation.
'Jamie All Over' was originally from the 'A Lesson In Romantics' album. Former vocalist Jason Lancaster's brother, Daniel Lancaster, provides vocals on the outro much as he did on the original album version. This, originally sang by old vocalist Jason Lancaster, works really well as an acoustic song. The finale especially, with the overlapping vocals by his brother, really completes the track.
The other song that Jason Lancaster originally sang on, 'Your Song', comes off as the weakest in this acoustic format, lacking a certain quality that is apparent in the other songs. Maybe it's because it was always meant for full band performance only, new vocalist Derek Sanders simply doesn't do it justice, or it was never a very good song in the first place.
The hooky and emotive 'Kids In Love' from sophomore effort 'Anywhere But Here' is definitely the best track on the EP, adapting really well acoustically, as if it was made for that purpose. It really shows off the vocals, probably the strongest part of the band, with the music stripped back as it is.
Those who weren't convinced by the band before won't be converted with 'Valdosta', but already existing fans of Mayday Parade will love it. Most of the tracks work well in acoustic format, which really shows off the emotive vocals and songwriting ability that the band have. The new tracks, 'Amber Lynn' especially, show that the future is bright for this band and will have fans eagerly anticipating their next move.
Written by Alex Mitchell-Fox